After the assassination of the Kurdish political Hevrin Khalaf on October 12, 2019, in the context of the "Operation Peace Spring", local and international media circulated a photo of a woman's body saying it belongs to the Syrian Kurdish politician Hevrin Khalaf, the Secretary-General of the Future Syria Party.[1] However, after scrutinizing the photo, it was found that the woman in it is not Hevrin, but an unidentified woman who appeared in another separate footage filmed by fighters of the armed Syrian opposition.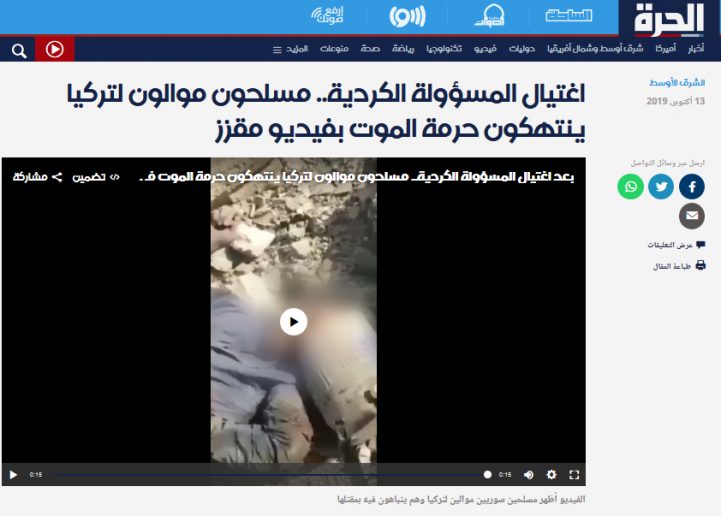 Image (1) a screenshot taken from an international news agency, which said that the body shown belongs to Hevrin Khalaf.
STJ tracked the published photo and the video from which it was taken and found that a member of the Memati Bash Division of the Sultan Murad armed group killed a woman and photographed her body in the first days of the "Operation Peace Spring". The political official of the Ahrar al-Sharqiya group, Ziad al-Khalaf had provided STJ with this footage and photo during an interview we conducted with him on October 30, 2019, claiming that they show the body of Hevrin. However, STJ have noticed that a photo of Hevrin before her death was added to the video provided by Ziad.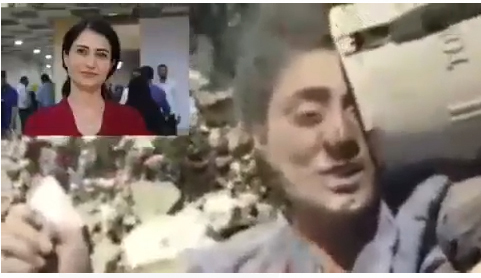 Image (2) a screenshot from the footage provided to STJ by Ziad Khalaf.
However, STJ had prepared a report contained additional evidence denied this allegation and hold Ahrar al-Sharqiya responsible for the kill of Hevrin and her drive on October 12, 2019, on the so called M4 highway.[2]
Further, STJ talked to Hevrin's mother, her main driver and two of her colleagues at the Future Syria Party; they all confirmed that the woman in the circulated photo (wearing grey blouse) is not Hevrin, who appeared in another photo wearing a burgundy blouse and black pants, the outfit she was wearing the day she was killed.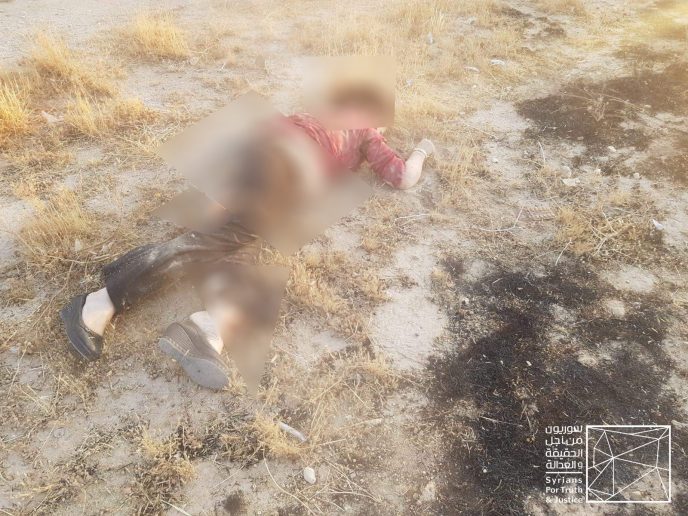 The Kurdish politician, Hevrin Khalaf, immediately after she was killed by Ahrar al-Sharqiya armed Syrian rebel group.
---
[1] "The Assassination of the Kurdish official .. pro-Turkish gunmen violate the sanctity of death with a disgusting video", Al-Hurra, October 13, 2019 https://www.alhurra.com/a/%D8%A7%D8%BA%D8%AA%D9%8A%D8%A7%D9%84-%D8%A7%D9%84%D9%85%D8%B3%D8%A4%D9%88%D9%84%D8%A9-%D8%A7%D9%84%D9%83%D8%B1%D8%AF%D9%8A%D8%A9-%D9%85%D8%B3%D9%84%D8%AD%D9%88%D9%86-%D9%85%D9%88%D8%A7%D9%84%D9%88%D9%86-%D9%84%D8%AA%D8%B1%D9%83%D9%8A%D8%A7-%D9%8A%D9%86%D8%AA%D9%87%D9%83%D9%88%D9%86-%D8%AD%D8%B1%D9%85%D8%A9-%D8%A7%D9%84%D9%85%D9%88%D8%AA-%D8%A8%D9%81%D9%8A%D8%AF%D9%8A%D9%88-%D9%85%D9%82%D8%B2%D8%B2/515909.html.
[2] "New Evidence Supporting the National Army's Accusations in the Murder of the Kurdish Politician Hevrin Khalaf", STJ, December 10, 2019, https://stj-sy.org/en/new-evidence-supporting-the-national-armys-accusations-in-the-murder-of-the-kurdish-politician-hevrin-khalaf/.