Hay'at Tahrir al-Sham (HTS) carried out executions against three men hail from the village of Qastoun in Hama. Two of them were shot dead on charges of spying for the Syrian government and the involvement in bombings in the city of Jisr al-Shughur, while the third, who was a relief worker, was stoned to death for adultery. STJ field researcher confirmed that the three men had been investigated and brought before Sharia judges of HTS before penalties were imposed and carried out.
STJ field researchers reported that the firing squads were conducted in Jisr al-Shughur, in the presence of some locals, while the stoning sentence was carried out in unknown place and the body of the man was handed over to the 'White Helmets', the Syrian civil defense, which in turn released it to his family, who was prevented from holding funeral or a condolence for its son by HTS.
1. Executing two men guilty of espionage for the Syrian government
On September 9, 2019, HTS members summarily executed the two brothers Fareej al-Fareej 25 and Ahmed al-Fareej 28 in the al-Saa'a square, at the center of Jisr al-Shughur city, in the presence of a number of locals.
A local of the village of Qastoun-he preferred anonymity for security reasons- confirmed that one of those two men executed had been recruited in the Khmeimim Air Base but he defected it in 2016. There were popular rumors that those two men involved in several bombings and recruitments of a number of young men in the area for the Syrian government.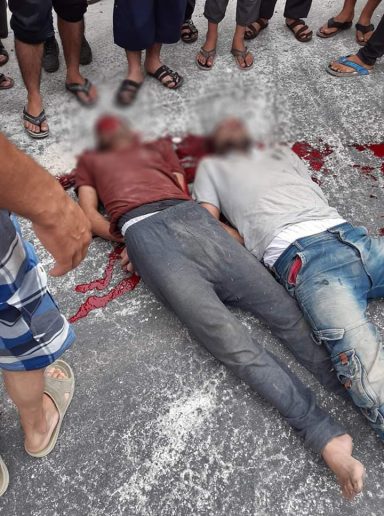 The Fareej brothers after being executed.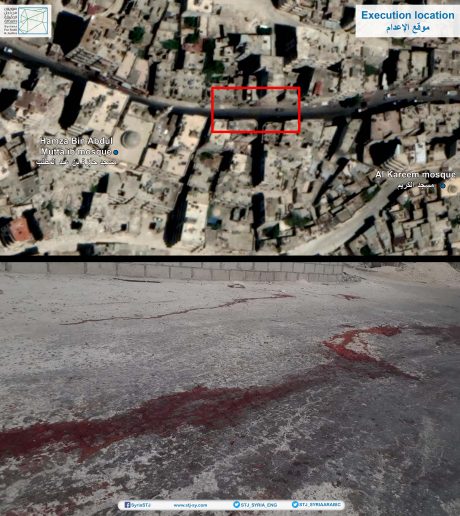 The execution site of Fareej brothers.
According to a local activist from Jisr al-Shughur, the brothers were executed after a bombing hit the city on April 24, 2019 and resulted in the kill of more than 15 people. The activist added that HTS announced taking down a cell connected to Khmeimim Air Base in June 2019.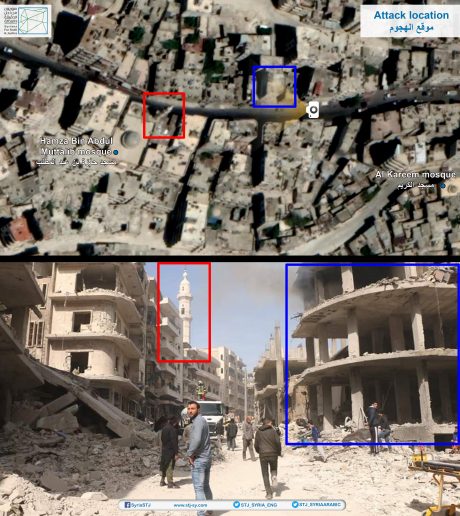 Site of the bombing which occurred on April 24, 2019 and suspected to be staged by Fareej brothers.
The Fareej brothers had been arrested for more than two months by the security forces of HTS, which ordered the executions that were carried out in the site of the bombing attack.
2. A relief worker stoned to death for adultery
On August 4, 2019 the family of Munawir Hamdeen,37, picked up his body from the 'White Helmets' center in Idlib after being stoned to death by HTS in an unknown place and time. Munawir was buried in the cemetery of Qastoun village in the evening of the same day, without holding a funeral or a condolence as ordered by HTS.
A local of Qastoun told STJ field researcher that Munawir Hamdeen is a relief worker at the 'Big Heart' organization in the city of Ma`arat al-Nu`man in Idlib and that he was arrested by HTS in February 2016.
A relative of Munawir Hamdeen confirmed to STJ that Munawir was arrested from his house in the town of Hesh and severely beaten, by an HTS security patrol of five cars, which came from their station in the town of Kafr Nabl in Idlib. The witness added:
"For the first five months of his detention, we had been unable to locate him or to know what he was accused of. However, we later learned that he had been in the al-Iqab prison and then transferred to the central prison in Idlib. After nine months, they told us that Munawir was accused of committing adultery with a married woman from the city of Ma`arat al-Nu`man and that he plead guilty. Actually, we don't know what pressure was put on him to confess this charge."
The source added that Munawir had been interrogated several times during his detention, and that one of the interrogators, known as "Abu Azzam Al-Jazrawi," told him that the woman accused to commit adultery with Munawir, had been arrested, and later she was bailed out.
Munawir's family managed to visit him in Idlib central prison for the first time in July 2017, after a year and a half of his arrest. He told them that he had confessed to the charges under torture but he was completely innocent of them. In the fourth visit to Munawir in 2017, his family was told to pay $25.000 in exchange for his release but they couldn't secure the amount, thus Munawir remained in prison.
On March 13, 2019, Munawir managed to escape Idlib central prison after being targeted by several raids from the Russian warplanes.[1] He went to a village at the border with Turkey and hid there until his brothers came to him and decided to get him back to his village, Qastoun. However, on March 20, 2019, while on their way back to the village, they stopped at a checkpoint of HTS, where Munawir was arrested again and retaken to prison.
A brother of Munawir said:
"On August 4, 2019, I received a phone call from a civil defense center in Idlib telling me to go there to get the body of my brother Munawir. It was clear that he was stoned to death as his body was bruised and there were marks of stones thrown on the head."
Munawir Hamdeen with his children. Photo credit: Munawir's family.
---
STJ recalls that HTS had earlier conducted similar executions in the provinces of Idlib and Hama,[2] and that its Sharia courts tried several accused and sentenced them to death.[3]
[1] See: "Escape of prisoners from Idlib Central Prison, run by HTS, after being targeted by several raids", Orient TV., March 13, 2019, https://www.youtube.com/watch?v=p4k0wJUkfZs.
[2] "Hayat Tahrir al-Sham Execute Two Persons and Arrest Others in Dana City- Idlib", STJ, June 25, 2019 https://stj-sy.org/en/589/.
"HTS Executes 6 Persons Accused of Dealings with the Regime and ISIL", STJ, September 20, 2018 https://stj-sy.org/en/771/.
[3] "Six Persons Placed on Death Row as Sharia Courts Preside over Two Murder Cases in Idlib and Hama", STJ, February 19, 2019, https://stj-sy.org/en/1188/.