Hay'at Tahrir al-Sham/HTS[1] executed 5 people in Aleppo accused of belonging to the Islamic State (aka ISIL). It also executed one Idlib on charges of dealing with the Syrian regular forces on September 20, 2018.
According to a statement, published by Ibaa News Agency, made by the HTS leader Suleiman Al Halaby on September 20, 2018; Mohammed Bahaa, Mohammed Al Hajji, Mohammed Jassim, Abdul-Aziz and Mohammed Saleh Al-Ezzo, summarily executed by firing squad on multiple charges, including affiliation with ISIL, killing HTS agents planting explosive devices and the involvement in bombings.
STJ could not verify the identity of the executed persons, circumstances of the arrests, or the veracity of charges brought against them.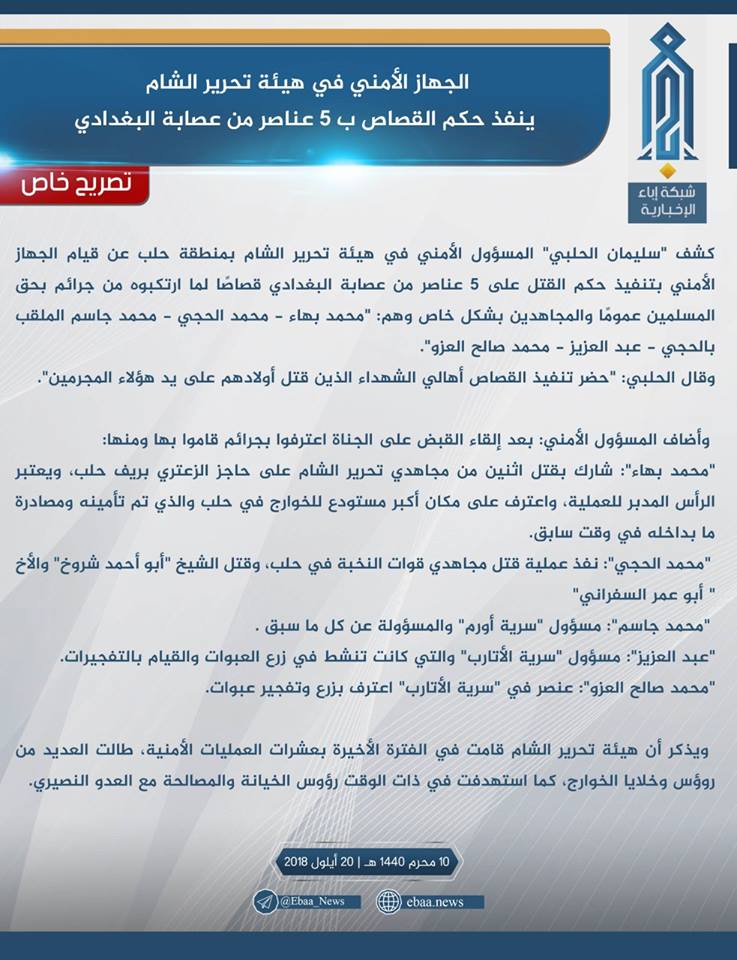 A press pass made by an HTS military leader on the executions; published by Ibaa News Agency.
Ibaa News Agency published photos of executions, claiming done in Aleppo countryside; without pinpointing the exact location. However, local activists suggest the execution arena was in the Jom'iyat al-Mohandiseen neighborhood, western Aleppo.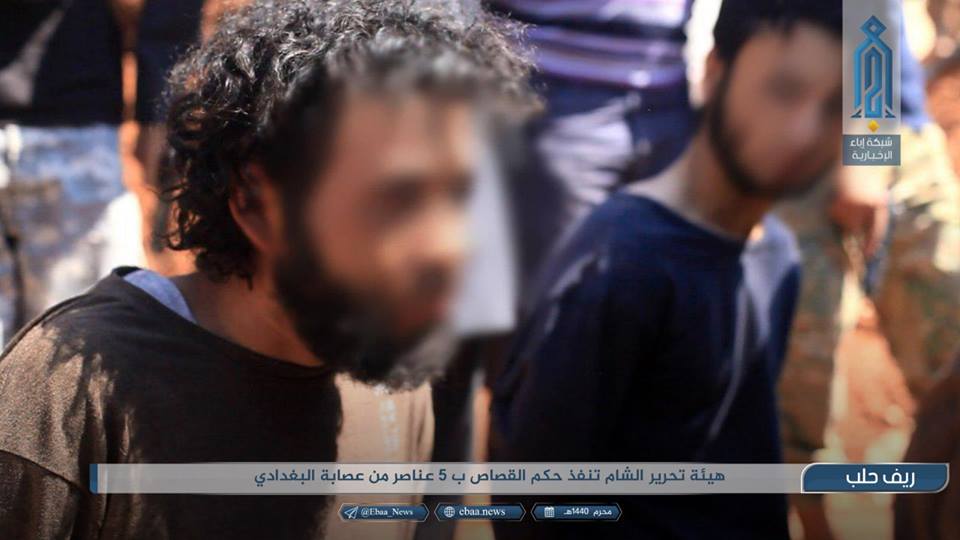 An accused prepared for his execution in Aleppo countryside.
The photo published by Ibaa News Agency on September 20, 2018.
Fawaz Obeid, from Abu Dali village, was also executed by HTS by firing squad in the public square of Tell Mannas village, Ma'arat al-Nu'man countryside, on September 20, 2018, on charges of collaborating with regime, as reported by local activists.
It is worth noting that HTS conducted mass raids and arrests, on various counts, during August and September of 2018, and still conceals the fate of many of the arrested. STJ has already published detailed news on previous executions done by HTS at which similar charges were brought.[2]
---
[1] On January 28, 2017, several Jihadi factions in northern Syria announced the merger under the name of "Hay'at Tahrir al-Sham/HTS" They were; Jabhat Fateh al-Sham (formerly Al-Nusra Front), The Nour al-Din al-Zenki Movement, Liwa al-Haqq, Jabhat Ansar al-Din, Jaysh al-Sunna and Ansar al-Sham. However, The Nour al-Din al-Zenki Movement declared its secession from HTS against the background of the recent clashes between the latter and Harakat Ahrar al-Sham al-Islamiyya in northern Syria on 15 July 2017.
[2] "Hayat Tahrir al-Sham Executes Two Persons and Arrests Others in Dana City- Idlib", STJ, June 25, 2018; https://stj-sy.org/en/view/590 , (last edit: September 20, 2018).