Villages and towns of southern Damascus (Beit Sahem, Babbila and Yarmouk Camp) witnessed large-scale looting and pillaging of the residents' property by the Syrian regular forces and supporting militias, after they fully controlled Yarmouk Camp on May 21, 2018, following the withdrawal of "Islamic State", also known as ISIL, agents, according to an agreement between the two parties which took place on May 19, 2018, and applied on the next day. Local sources told STJ that Regime forces prevented the displaced from returning to their houses inside Yarmouk Camp unless they pay them a certain sums of money, and added that they had assaulted people who tried to prevent them from seizing their property.
The media activist "Tariq Mansour", from Yarmouk Camp, who was recently displaced to northern Aleppo countryside after the deal, said in an interview with STJ on May 25, 2018, that the Republican Guard and a group of Thiraa al-Assad forces "al-Assad Arm" looted the 30th and and 15th Streets as well as al-Taqaddoum neighborhood. While agents of the Palestine Branch and the Department 227 looted Palestine Street, and members of the National Defense looted the al-Tadamon neighborhood. Civilian property in whole al-Maghariba neighborhood was also looted, according to local sources from inside Yarmouk camp, whom the activist have contacted.
In turn, activist Ismail Matar, from Yarmouk Camp, who was also displaced recently to Aleppo northern countryside after the latest agreement, said in an interview with STJ on May 25, 2018, that the stolen items are divided into two categories; the high-quality stuff that goes to militia officers and the ordinary stuff which be sold in various markets in many parts of Damascus and its countryside, such as the markets of Jaramana, al-Kbbas and Dwel'a. Matar added that according to information he got from local sources inside the Camp, the Regime and allied militias agents used to steal all house contents such as furniture, windows, doors and even electric wires.
A residents of Yarmouk Camp told Matar that when he entered his house he found it empty, and when he tried to retrieve his property, the Regime forces asked him to pay $2000, but after negotiations he could get his belongings back by paying S.P 300,000. Another resident of the Camp stated that when he had entered his house, which located at the Palestine Roundabout, to check it out, he saw one of the Regime forces agents taking the refrigerator out, and when he told him that he is the owner of the house and that refrigerator is his, the agent asked for money to give it back to him, so the civilian was forced to pay "he bought his own refrigerator from the agent in the middle of his house!".
The activists, Mansour and Matar, reported that the regular forces and allied militias had prevented displaced civilians from returning to the Camp to check out their houses and remove their belongings, except for those who have relations with the Regime agents or who pay a sum of money in exchange for permission to get into the Camp or for purchasing his own house stuff from the one who seized it. While the loyalists of the Nisreen Street were allowed to enter the area and loot civilian property for a sum of money. In this context, Ismail Matar stated in his speech to STJ that the Syrian regular forces had fired "Mahmoud al-Bakr, 15," in front of his house in al-Orouba Street, beside the al-Carmel oven inside Yarmouk Camp because he tried to prevent the agents from looting his house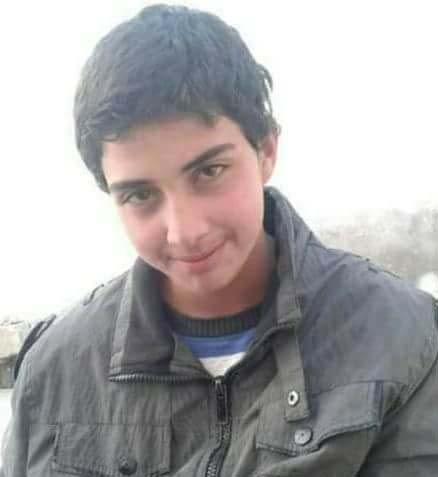 Image of Muhammad al-Bakr, 15, who was shot in front of his house in al-Orouba Street near the al-Carmel Oven, by Syrian regular forces agents while trying to prevent them from stealing his house. Photo credit: the activist Ismail Matar
In the same vein, a video footage has spread on social media showing armed soldiers, believed to be affiliated to Syrian regular forces and supporting militias, being arrested by the Russian Military Police at the entrance of Babbila town-Damascus countryside. However, agencies loyal to the Syrian regular forces denied this and said that the persons who appeared in the footages and the photo are "men wanted for security branches on various counts."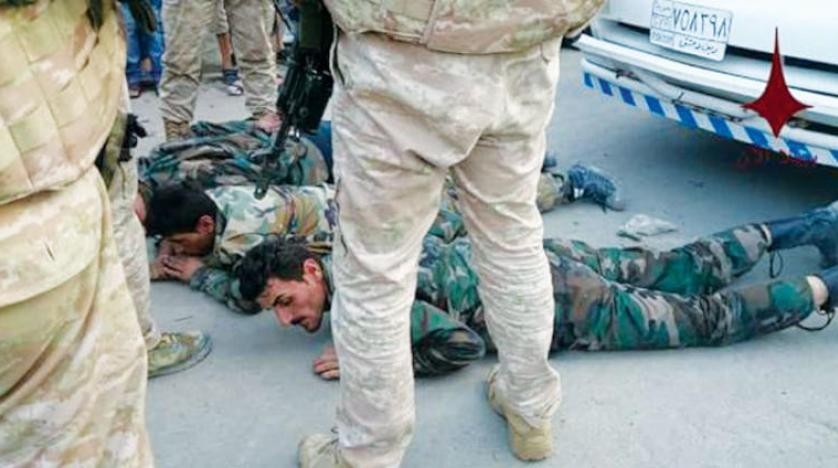 Image shows members of the Russian Military Police arresting Regime forces soldiers.
Photo credit: agencies- Syrian local sources.

Image shows the post published by the Al-Ikhbariyah Syria "Syrian News Channel" on its Facebook page, in response to photos and videos showing Russian forces arresting some persons during looting and robbery actions.