At least 26 displaced persons were killed and more than 61 others injured when a car bomb exploded in a queue of many displaced from the disaster area of Deir ez-Zur[1], to al-Hasakeh province which is under the control of the Syrian Democratic Forces/SDF[2], and according to Syrians for Truth and Justice STJ reporter, the blast took place in the Abu Ruwaished[3] area in Deir ez-Zur on Friday, November 17, 2017.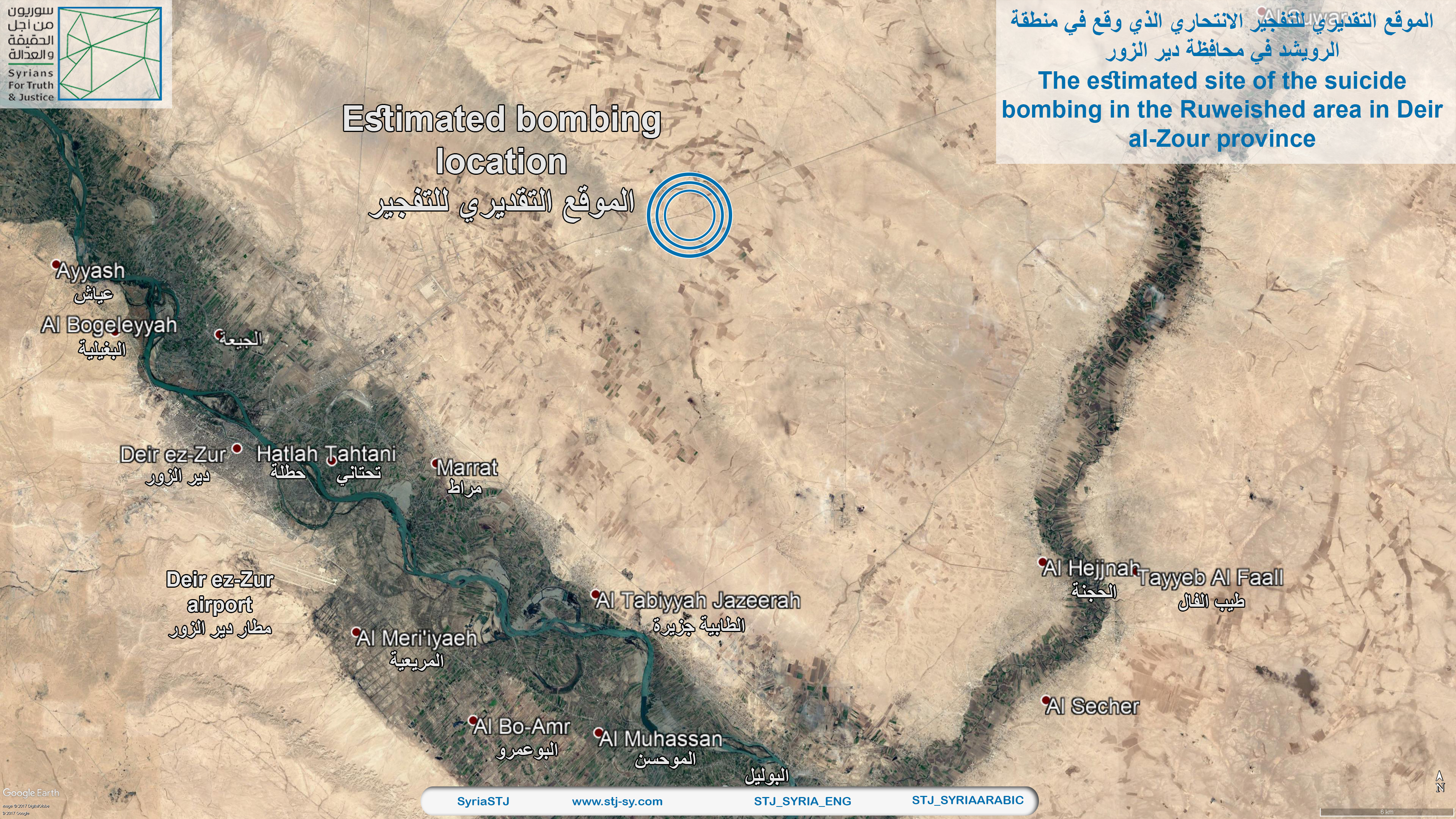 Thaer al-Ali, 35, a displaced person who flees from Deir ez-Zur and a survivor of the blast, spoke to STJ about the explosion, he said:
"On Wednesday, November 15, 2017, I fled with my family from Deir ez-Zur towards al-Hasakeh, owing to the intensification of the fighting in the east side, in addition to intense bombardment by the regime forces. Our journey lasted about two full days due to the gravity of the road and the severity of the battles; at 11:15 a.m. on Friday, November 17, 2017, we reached Abu Ruwaished area where there was a line of about 25 cars belonging to fleeing fugitives whom took a break in that area. About half an hour later, a large truck loaded with cattle moved towards us, it exploded in the middle of the queue without any warning; luckily, I was at the front, I did not hurt, but some shrapnel hit my car. Given the intensity of the pressure, I laid down on the ground, and when I stood up, I saw pieces of the dead everywhere and black smoke rising from the burning cars."
Ali said that the ambulance cars of the Kurdish Red Crescent had flocked to the scene about two hours after the blast, alluding the bad condition of the wounded and injured, as many of them were exposed to either amputation or burns owing the severity of the explosion.
Munther Mohammed, 55, one of the displaced, who also escaped from Deir ez-Zur toward al-Hasakeh, told STJ reporter that on November 19, 2017, he decided to flee with his family consisting of three girls, two young men and the mother. However, they got shocked by the explosion of the suicide bomber conducted near them, and he continued in this regard
"When we saw the cattle truck, we did not pay any attention to it, and moments later we heard a strong explosion. Thank God, we did not get hurt, but when we saw what happened, we see the smoke rising from the parking lot, I rushed with my family to the explosion site. I wish I had not gone there, as I saw bodies that completely distorted, and there was only burnt flesh left; I saw people burning in their cars, in fact it was such a terrible sight."
In another testimony by Abla Ghadeer, a fugitive survivor from Deir ez-Zur, she said that she was injured in her foot, one of her hands and her face due to the shrapnel that resulted from the severity of the explosion, she continued:
"On November 14, 2017, I displaced from Deir ez-Zur with my family that is composed of my parents and brothers. We travelled through the "Muhalaq Road" outside the city, heading towards its eastern countryside. Anyway, we were stopping every two hours because of the bombardment of the warplanes, and three days later, we arrived at Sour-Deir ez-Zur road. There, we met some of the other displaced people, and we all went to Abu Ruwaished area. At about 11:00 on Friday, November 17, 2017, while we were taking a break with the other displaced, we were shocked by the bombing. As a result, I lost consciousness and lied on the side of the road near my brothers, who were in good state, then Kurdish Red Crescent vehicles dispatched us to the national hospital in Al Hasakeh city."
The injured in this suicide bombing were transferred to the national hospital in al Hasakah and national hospital in Qamishli as well, according to STJ reporter, who could document the names of some of the injured displaced as follows:
• Wounded Men:
Ahmad Thaer Dawood

Thaer Dawood Khalaf

Hussein Thaer Dawood

Sajed Khalil Barakat

Ghasan Jumah

Abdul Manaa Al-Darwish

Nasir al-Manaa

Shihab Ahmad

Abdullah Daham

Haythem Daham
• The wounded children were:
Nazir Muhamed

Abd al-Elah Abdulqader

Maha Thaer Dawood

Asma Thaer Dawood

Mansor Kheder al-Ali

Abd al–Karim Abd

Saleh Abd

Yaqub Abd

Thurya Abd

Jinan Abd

Ahmad Abd

Rasoul Abd

Turkya Zuhair al-Ali

Khabash Awd

Rawa Shihab

Amnia Ayman

Aya Abdul Manaa

Abd al-Naser Manaa

Hatem al-Naser

Fouad al-Khalif

Dalal Kher Allah

Farah Shihab

Muhanad Fyad

Rahma Abd al-Aziz

Doua al-Gharbi

Yasmin al-Rahal

Fatima al-Rahal

Fahad Khalif

Hassan Samir

Abd al-Rahman Hmoud
• The Wounded women were:
Israa Mahmoud

Raqya Shihab

Rasmia Abass

Bayda Khalid

Wadha Ukla

Shaimaa Ismail

Entisar Kher Allah

Laila Ali

Fatima Ahmad

Elaf Abass

Needa Ahmad Mustafa

Fadilah Mush'ab

Hiam al-Manaa

Sabrya Abdullah

Frial Abd

Kadija Awad

Kamela Awad

Raghad al-Fyyad
STJ had earlier published a report, about deaths of dozens of displaced fleeing from Deir ez-Zur toward al-Hasakeh, following the explosion of two car bombs on October 12, 2017.
---
[1] On September 9, 2017, the "Deir ez-Zur Military Junta", affiliated with the Syrian Democratic Forces/SDF, launched the battle of the "Island Storm", backed by international coalition forces in order to control the remaining southern countryside of al-Hasakeh which is under the control of the Islamic State/ISIS, in addition to eastern regions of the Euphrates, which administratively follows Deir ez-Zur province.
The Syrian regular forces had previously announced, in June 2017, the battle of Deir ez-Zur in order to expel Islamic State militants from the western side of the Euphrates River, these battles accompanied with very violent Russian and Syrian bombardments as well as airstrikes by international coalition aircrafts, and led to daily displacement of people of Deir ez-Zur. The number reached from 1,500 to 2000 displaced in al- Hasakeh and its areas which are under the control of the Autonomous Administration.
[2] Syrian Democratic Forces: also known as SDF forces are a coalition of Arab, Kurds, Syriac, Turkmen and other combatants. Its formation was announced on October 11, 2015. The People's Protection Units/YPG form the backbone of SDF, and it constitutes of 27 military factions (Special Task Brigade 45, 99 Infantry Brigade, Liwa al-Qaqaa, Kurds Front, Seljuk Brigade, Sultan Salim Brigade, Ein Jalot Brigade, Aleppo Ashaar forces, Tajamouh alweat al-Jazirah, Brigade of al-Jazaa Martyrs ' Brigade, Tal Hammise Martyrs, Brigade Martyrs of Tal Brak, Karhok Martyrs Brigade, the Martyrs Brigade of Mabrouk, al-Hasakah Martyrs Brigade, Rawia Martyrs Brigade Tajamouh alweat alFurat, Tajamouh Al Furat Jarablus Brigade, Ahrar Jarablus Brigade, Euphrates Martyrs Brigade, al-Sad Martyr Battalion, al-Sanadid forces, Liwa al-Tahrir, the Syriac Military Junta, the North Sun Brigades, Jabhat Thwar Raqqa, People's Protection Units/YPG/ and women's Protection Units/YPJ/). It is mainly supported by the International Coalition that is leading the war against ISIS in Syria and Iraq, led by United States of America.
[3] The area is located on the road of Sour– Deir ez-Zur city.