Preface: Hundreds of patients, trapped in East Ghouta, are still waiting with hope on the "evacuation lists" to be allowed to get out for cure in Damascus hospitals. Eastern Ghouta has been under siege by the Syrian regular forces for many years. As the siege tightened, suffering has increased dramatically since February 2017, especially after all tunnels, connecting Eastern Ghouta with some areas of the capital, Damascus, were out of service as a result of military operations between regular forces and armed opposition forces.
Day after day, numbers of patients, who are in urgent need of medication, treatment and evacuation, doubled. Some of whom are slowly dying while waiting on the "urgent evacuation lists" for the promised evacuation from Eastern Ghouta, and others lost their lives, as a result of their inability to secure a single medicine box, which could Keep them away from death.
Many eyewitnesses confirmed to Syrians for Truth and Justice -STJ reporter in September 2017 that more than 400 patients, recorded on the "urgent evacuation lists" from Eastern Ghouta, are at risk of death; the children had the largest share that reached (50%), and the women portion reached (30%). Fourteen deaths have been recorded; they could have survived if they had received treatment.

Political and Military Context:
On May 4, 2017, sponsor states of Astana Talks (Russia, Turkey and Iran) signed a Memorandum of Understanding for the establishment of de-escalation zones in Syria. It included Eastern Ghouta in Damascus countryside, Idlib province and some parts of northern Homs, as well as some parts of adjacent provinces (Latakia, Hama, and Aleppo) and some parts of southern Syria. One of the most prominent items is cessation of hostilities between conflicting parties and creation conditions for access of medical aids, the last convoy entered Eastern Ghouta was on July 27, 2017, it was five trucks of the Red Crescent loaded with medical supplies materials, medicines and vaccines.
On July 22, 2017, the Army of Islam participated in signing de-Escalation zone agreement in Syria, followed by Failaq al-Rahman, on August 18, 2017, as the Russian side and Failaq al-Rahman agreed to cease fire and continue to fight al-Nusra Front as well.
It is worth mentioning that the Syrian regular forces still impose a suffocating siege on Eastern Ghouta from late 2013 until the date of this report.
Eastern Ghouta is under the military control of Syrian armed opposition since late 2012, along with several factions such as Army of Islam[1], Failaq al-Rahman[2], Ahrar al-Sham al-Islamiyya[3] as well as Hayat Tahrir al-Sham-HTS[4], which owns some headquarters in Failaq al-Rahman control areas.
In April 2017, Army of Islam waged a campaign to uproot HTS/al-Nusra Front in Eastern Ghouta, the campaign lasted almost one month and resulted in decreasing the presence of HTS to some limited headquarters in the outskirts of Irbin town and some areas of Hazeh and parts of Al-Ash'ari farms. However, during the campaign Failaq al-Rahman interfered to counter Army of Islam, so the military confrontations expanded, and ended with retreat of each faction into its areas of control. Consequently, Duma , Mesraba, Ottawa, Al-Nashabiyah, Shifuniyah, and some of al-Ash'ari farms became under the control of Army of Islam, whereas Irbin area became a joint control area between Ahrar al-Sham al-Islamiyya, Failaq al-Rahman and HTS/al-Nusra Front ,Hazeh area became a joint control area between Failaq al-Rahman and HTS/al-Nusra Front, Hamoryah area became a full control zone of Failaq al-Rahman, Saqba a full control zone for Failaq al-Rahman and Kafar Batna district became a Joint control area between HTS/al-Nusra Front and Failaq al-Rahman, areas of Jisreen, Zamalka, Jobar and Ein Tarma became full control areas of Failaq al-Rahman, Madyara and Beit Sawa areas of full control of Failaq al-Rahman except for some farms controlled by Army of Islam until the date of writing this report in October 2017, and Harasta is a full control area of Ahrar al-Sham Islamiyya/ Liwa Fajr al-Islam formerly.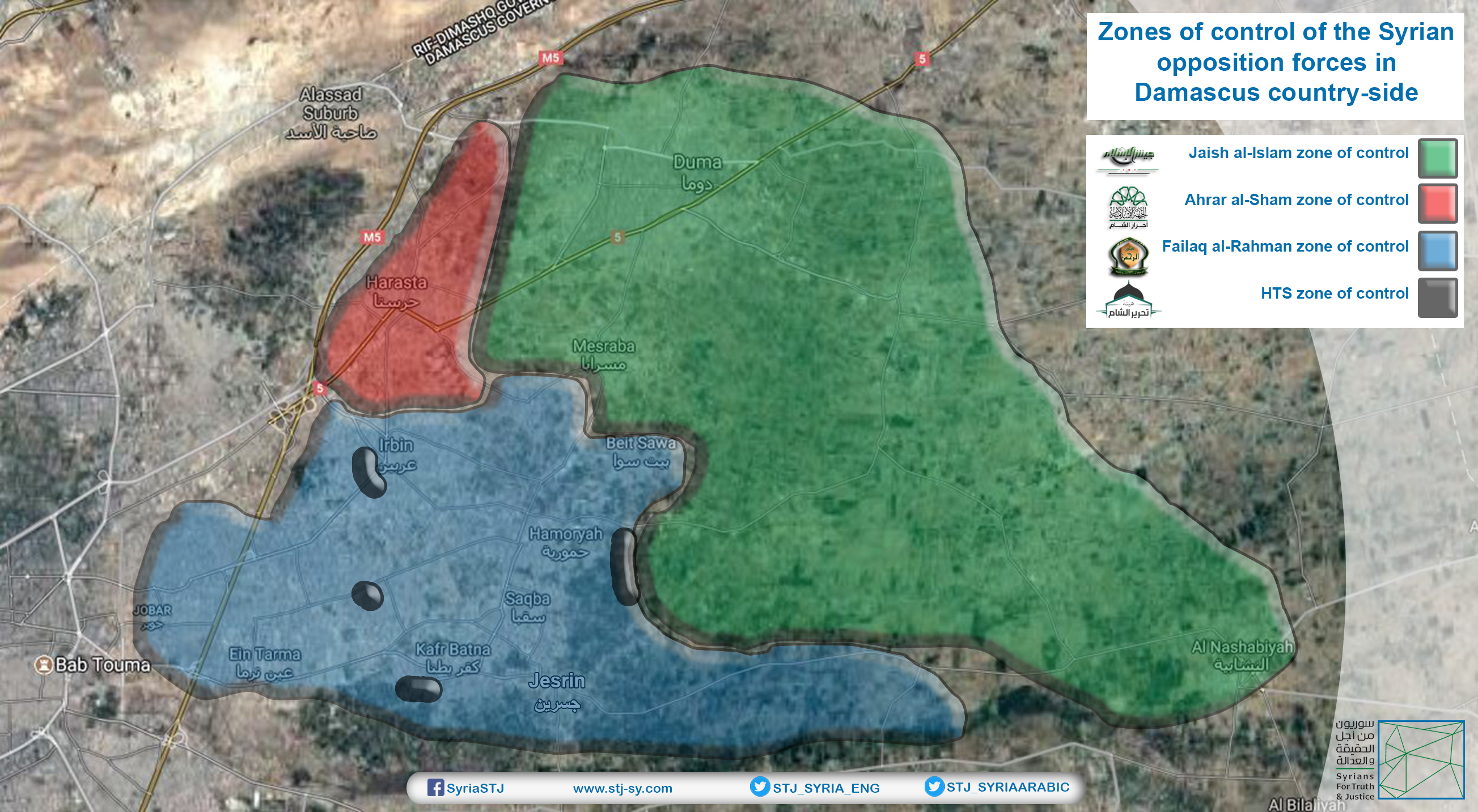 A map illustrate areas of control by opposition factions in eastern Ghouta until the beginning of November 2017.
A Small Medicine Box Could have Saved his life..
Osama al-Toukhi, a child from Eastern Ghouta, not more than 5 years old, has suffered from minor viral infection, due to lack of medication and the inability to evacuate him from besieged Ghouta; he died on 23 September 2017 after the Syrian regular forces rejected to get him out of Eastern Ghouta for treatment, despite all attempts done. In this regard, the child's father spoke to STJ, and said:
"Osama was a normal child, until a week before his death, he started to feel pain in the head, his body warmed up, and his whole body started cramping, then he lost consciousness completely, after that, I took him to a medical point in Eastern Ghouta. The medical staff made every effort, they began to give him anaesthetic injections, but he started to cconvulse severely.
He was diagnosed with a minor viral infection; doctors said that he needs a simple medication available in the capital Damascus but not in Eastern Ghouta. This medicine is a very small box where it exists no more than 10 kilometres away from the hospital where Osama, my son, was lying. I worked hard to fetch this medicine, regardless of money and effort required. One of my attempts was to resort to the Red Crescent asking them to help me get my son Osama out to be treated in a hospital in Damascus."
Osama's father added that the Red Crescent agents had recorded his son's name on the "urgent evacuation lists" from Eastern Ghouta, they contacted Red Crescent branch in Damascus, and there was also coordination with the concerned authorities to help Osama, but the Syrian regular forces rejected his request. His son's health condition deteriorated over time, and the infections he suffered began to spread within his cerebral cells. In this regard Osama's father continued:
"In this period I started to collapse. To just stand there watching your child dying is one of the harshest emotions. I stood helpless surrendering to my Lord's fate. I just never imagined that my son's life depends on a small medicine box that would have saved him from death. I was waiting patiently for the Syrian forces either to allow medicine enter Ghouta or to get my son out of it to be treated in Damascus hospitals, but Osama died soon on 23 September 2017. What hurts me most now is that Osama has a brother of his age, who is much attached to him, he does not stop reminding us of him every day, as he wakes up every night and starts to cry for what happened to his brother, which also let us cry and cry."
Osama's father continued that it was not the first time he lost a child, six years earlier, Syrian regular forces had arrested his eldest son, "Adel", and his fate is unknown until this moment, Osama's father ended his talk saying:
"The case of my son Osama is not the only one of its kind in Eastern Ghouta; there are dozens of children who are at risk of death because of the block imposed by Syrian regime on medication entry, and not allowing them out of Eastern Ghouta to receive treatment. What sin have those children committed?"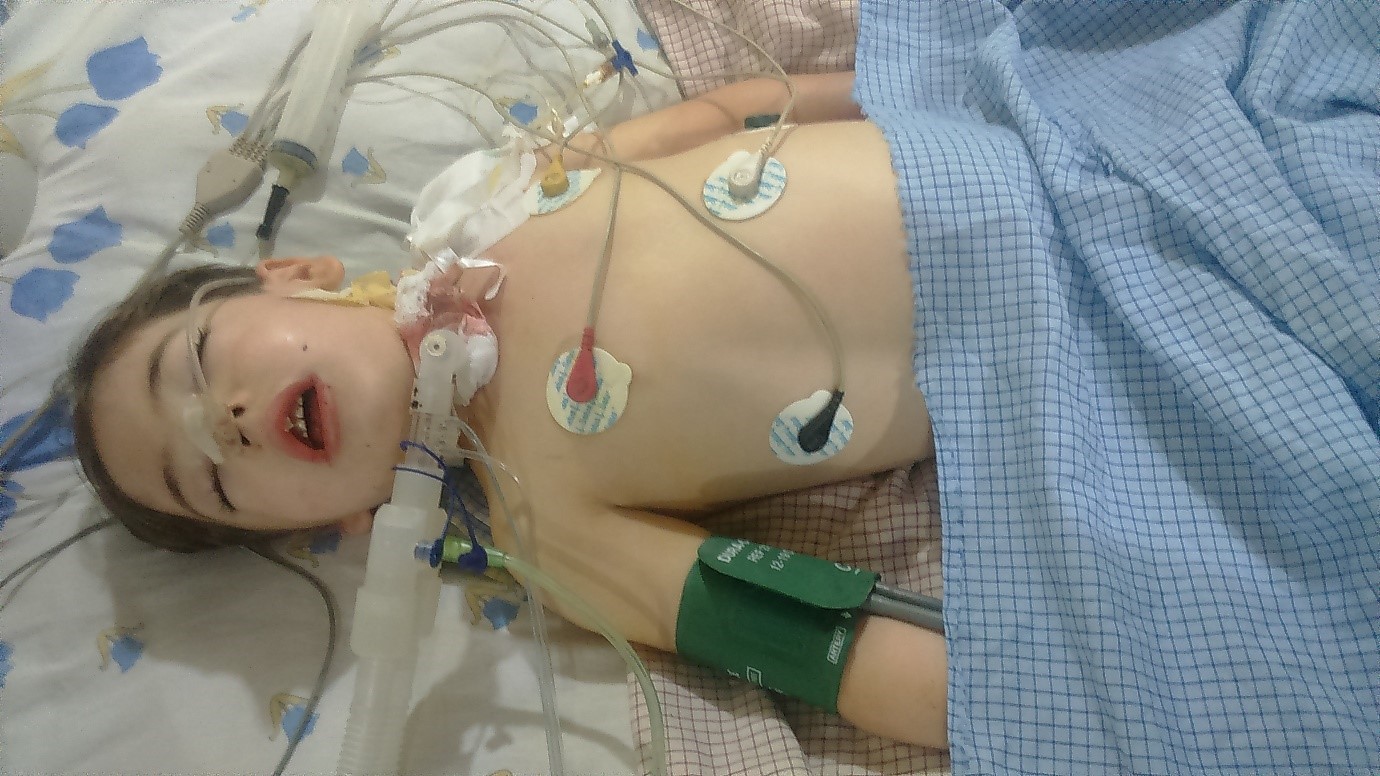 Image shows the child Osama al-Toukhi prior his death on 23 September 2017, lying on a bed of one of the medical centres in Eastern Ghouta.
Photo credit: STJ
A video footage special for STJ shows the child Osama al-Toukhi convulsing just two days prior his death.
She Died In Front Of My Eyes and I Stood Helpless..
Samira Qaisarani, a 47-year woman from Eastern Ghouta, was not allowed by Syrian regular forces to undergo treatment in Damascus hospitals from the Cancer she had had, as well as many other similar cases, where she died on 19 September 2017. In this regard, her daughter Nada Qaisarani spoke to STJ, and said
"In late 2011, my mother started her journey with "breast cancer", where she was transported to Damascus for a surgery, and indeed my mother's condition improved after this operation. Therefore, we went back to Eastern Ghouta and continued her treatment there at al-Rahma oncology centre, but the sorrow shortly returned as the siege was tightened on Eastern Ghouta, and medicine and food were blocked.
My mother's condition has deteriorated again, that even simple medications such as painkillers are no longer available in Ghouta. Therefore, the cancer started to spread again in her body faster than before. I took her to most hospitals and medical centres in Ghouta, but they assured me that there is no cure for her inside Ghouta except some pain relief."
Nada Qaisarani added that her mother could not rest nor sleep during her illness period and because of her bad condition, her name was recorded on the urgent evacuation lists from Eastern Ghouta, but the Syrian regular forces also rejected her evacuation request. The doctors stood helpless in front of her mother's case, until she reached a point where the treatment no longer worked. Nada ended her talk by saying:
"My mother had never suffered such a pain; she was screaming and groaning in pain whenever I took her to a medical point. My heart ached with every scream. Unfortunately, I could not do anything to her, except to bring some painkillers, until she died before my eyes on 19 September 2017."
The Death of 14 Patients Recorded on Urgent Evacuation Lists:
More than 400 patients, (85%) of which with serious cases, were recorded on the urgent evacuation lists from Eastern Ghouta.
This was confirmed by "Muhammad al-Khudari", one of the medical centre staff in Eastern Ghouta, where he pointed out that with the beginning of the intensified siege on Eastern Ghouta several months ago, the number of pathological cases requiring immediate evacuation and treatment outside increased, in this regard he said:
"The number of such cases has reached more than 400, half of them are children, 30% are women, and the rest are men.
Recently and specifically in July 2017, we managed to evacuate only two children, one of them suffered from paralysis and the other suffered from brain injury.
So far (14) cases of those listed persons have died, where the situation of the child Osama al-Toukhi is one such cases, especially since we have tried repeatedly and by various means to evacuate him from Eastern Ghouta. Despite the approval of the Red Crescent, the regime was a strong barrier to save that child's life."
Muhammad al-Khudari added that Eastern Ghouta suffered a similar crisis in 2014, as Syrian regular forces prevented the evacuation of all patients from Eastern Ghouta to receive treatment. Muhammad indicated that they had then prepared lists for urgent evacuation by the Red Crescent, but they could not vacate the recorded cases, only after digging the tunnels connecting Eastern Ghouta with Damascus, through Barzeh and Qaboun neighbourhoods.
A number of Syrian non-governmental institutions had issued a joint statement on the tragic situation in Eastern Ghouta, in which they demand guarantor states of de-escalation zone agreements to fully commitment to their obligations and practice the necessary pressure on Syrian regular forces to improve humanitarian access to the besieged people in Eastern Ghouta via:
Immediate opening of commercial crossings and allowing free entry and exit of goods in and out of the besieged area as well as preventing extortion and robbery which take place at the checkpoints around Eastern Ghouta. These practices cause sharp rise in the price of goods entering the besieged area.

Immediate opening of humanitarian passage to evacuate all the critical medical cases.

Applying effective monitoring of the mechanisms to approve cross of humanitarian convoys and to ensure their continuous flow on a regular basis, including all essential materials identified in accordance with humanitarian needs assessments, especially medical materials.
The institutions also called on international donors and United Nations humanitarian agencies to assume their responsibilities and provide direct and immediate funding to the non-governmental humanitarian organizations operating in Eastern Damascus, to enable them provide immediate assistance to the besieged people protecting them from falling into real famine that threatens the lives of tens of thousands.
At the beginning of October 2017, STJ, released a report highlighting the suffering of chronically ill persons in Eastern Ghouta after more than four years of siege, and how this siege has harvested lives of many of them.
---
[1] In September 2011, "Zahran Aloush" announced the formation of the Opposition Battalion of Islam, that later became, in mid-2012, Liwa' al-Islam. On September 29, 2013, the brigade merged with a number of other factions to announce the formation of the "Army of Islam" and Later joined "Islamic Front" in the same year, including other Islamic brigades, al-Tawhid Brigade, Suqour al-Sham, Ahrar al-Sham al-Islamiyya, and Liwa al-Haqq, and Zahran was the commander. The army is now mainly active in the Eastern Ghouta area of Damascus countryside, but is also located in most areas out of control of the Syrian government except areas under ISIS and Syrian Democratic Forces SDF.
[2] At the beginning of August 2012, the formation of al-Baraa Brigade, led by dissent captain "Abdel Nasser Shammeir", hails from Homs province, was announced, and at the end of 2013, the brigade expanded after several brigades and factions joined it, including: Abu Musa al-Ash'ari Brigade, Liwa Shuhada al-Ghouta, Ahl al-Sham Brigades, al-Liwa al-Awal in Qaboun and Tishreen neighbourhoods, and al-Adiyat Battalion in western Ghouta. According to several sources, this brigade has about 9,000 fighters. It gains influence from its areas in the neighbourhoods east of the capital, such as Jobar, Zamalka and others, and is the second largest opposition military faction in Ghouta, after Army of Islam.
[3] Ahrar al-Sham al-Islamiyya was formed on November 11, 2011 with approximately 25, 000 combatants. It is an Islamic military faction formed of integration of four Islamic factions: Kata'eb Ahrar al-Sham, al-Fajr al-Islamiyya Movement, Jamaat al-Taliaa al-Islamiyya and al-Iman al-Moqatila Brigades. Ahrar al-Sham al-Islamiyya actives in many areas that are not held by Syrian government, especially in the provinces of Idlib, Aleppo, and Hama, and is headed by Hasan Soufan/Abo al-Barra, born in Lattakia 1979, the ex-prisoner who was sentenced for 12 years in Sednaya Military Prison but released late 2016 following the prisoner swap agreement.
[4] January 28, 2017, Several jihadist factions in northern Syria announced the merger under the name "Hayat Tahrir al-Sham-HTS", they are: Fateh al-Sham Front- formerly al-Nusra Front, Nour al-Din al-Zenki Movement, Liwaa al-Haqq, Ansar al-Din Front and Jaysh al-Sunna. However, at the background of the recent outbreak of confrontations between HTS and Ahrar al-Sham al-Islamiyya in the north of Syria on July 15, 2017, Nour al-Din al-Zenki Movement announced its separation from HTS on July 20, 2017.