Preface: The Siege of eastern Ghouta cities and towns four years ago still claims more lives, especially among the chronically ill persons such as kidney failure, also known as renal insufficiency, and cancer, who suffered doubly from the repercussions of the blockade siege and the denial of access to medical supplies. In mid-2015, a number of armed opposition factions managed to dig tunnels that reach between Eastern Ghouta and areas of the capital, Damascus, so some of the chronically ill persons could get out of Eastern Ghouta and receive treatment in Damascus hospitals, and in parallel, many medical facilities in Eastern Ghouta managed to introduce some medications that can alleviate the suffering of those affected by these diseases.
However, since the Syrian regular forces launched their military campaign on Barzeh and Qaboun in March 2017, the introduction of medicines and medical supplies stopped due to the almost complete interruption of tunnel's work, thus contributed to renew suffering of the chronically ill persons, as confirmed by Syrians for Truth and Justice-STJ reporter who conducted several interviews concerning this matter in Eastern Ghouta late August 2017 and early of September 2017.

First: Slow Death Under Siege
Cancer patients in Eastern Ghouta suffer from severe shortages of medicines and of medical facilities that supervise providing the necessary services like chemical doses and medical equipment. For example, the young Mohammed al-Nahleh who hails from Douma, who has been infected with cancer since 2012, and whose pain and illness aggravated since the siege imposed on people of Eastern Ghouta. In this regard, he said to STJ,
" In 2012, following my daughter's death and just before the siege of Eastern Ghouta, I started to suffer from severe pain in my fingers, so I carried out several tests which showed that I had spleen cancer. There, my journey began to receive treatment in Damascus hospitals, but with the beginning of the siege imposed on us more than four years, and the denial of any one from getting out even for cure, I paused treatment for a whole year, thus my situation worsened and began to relapse. Late 2013, I learned of a single tumour center in Ghouta, Dar A-Rahma Center, where I went directly, and they gave me number of intensive chemical doses to overcome the disease, but after I reached the advanced stages of treatment, the blockade intensified again and the medication interrupted, so I began to relapse again."
Muhammad said that the relapse phase under the siege caused him feel unbearable pains and contributed to the emergence of new tumours in his body, he also indicated that he had been alleviating those pains through some painkillers which were useless, he ended his speech saying :
"I am hopeful that passageways will be reopened and medicine will be introduced back to Eastern Ghouta, so that I can receive treatment, but my concern is growing day by day, because of the continued interruption of medication and the denial of us to go out, all I have to do now is waiting for the slow death."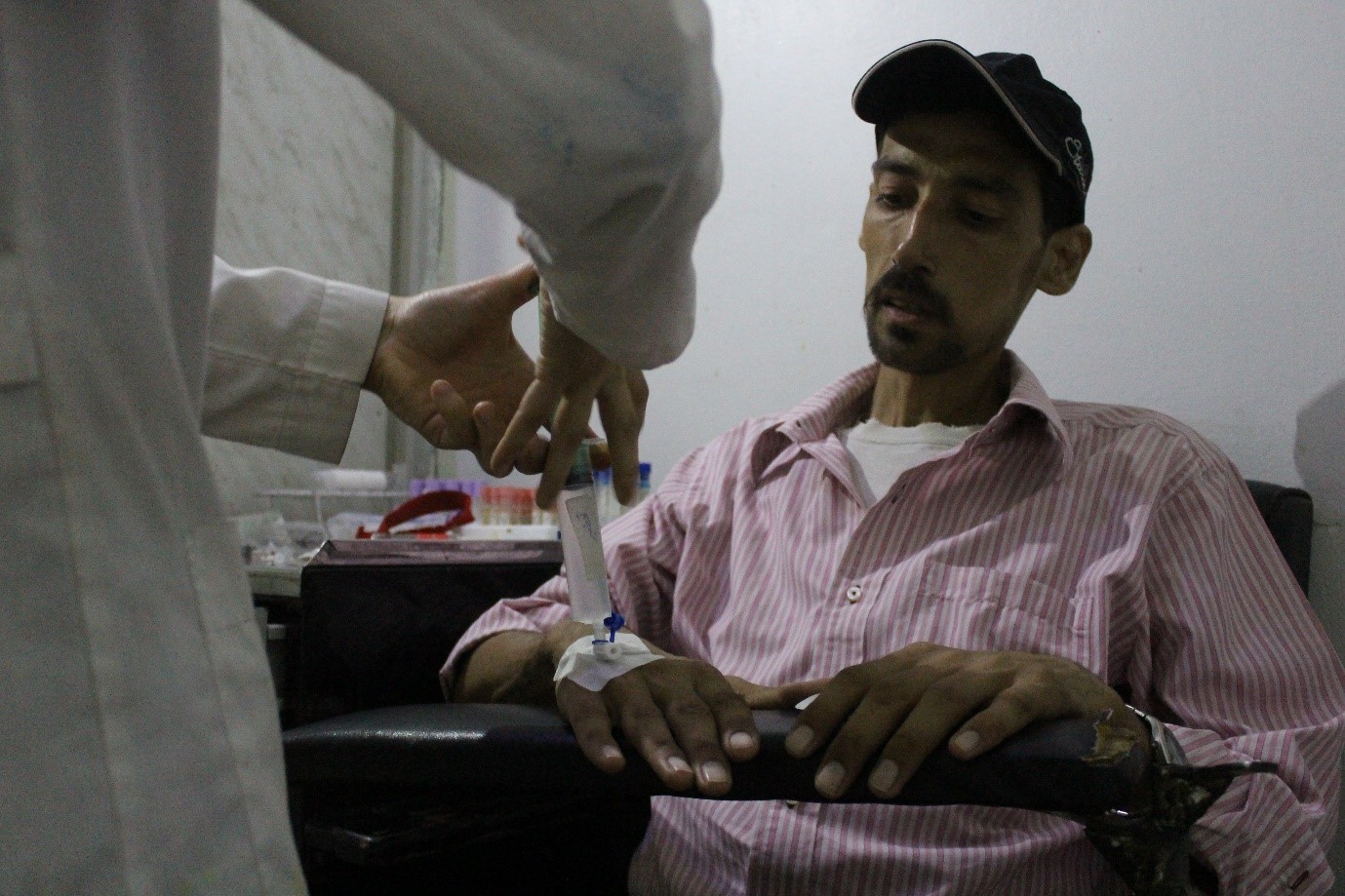 Image of the patient Mohammed al-Nahleh while taking medication at East Ghouta's Dar A-Rahma Center located in Damascus countryside.
Photo Credit: STJ
On the other hand, Nagham Mohammed, a mother of three children, suffered from cancer two years ago and the siege contributed to aggravate her health. However, with the help of tunnels leading to Damascus, she managed to get out of Eastern Ghouta for cure, but her health condition did not remain the same. She said in her testimony:
"I started to receive medication at A-Rahma Center where I was given the necessary doses to stop the disease; indeed I got better afterwards and stopped having painkillers besides I could sleep at night for the first time since my illness. After that, my doctor who supervised my situation, warned me that I had to undergo therapy sessions with rays which were not available in Eastern Ghouta. Therefore, I was forced to go to Damascus about a half and a year ago but only through the tunnel linking Eastern Ghouta to Qaboun. However, since my arrival to Damascus, I received no care at hospitals so I relapsed and the tumour returned to its previous status. I decided to go back to Eastern Ghouta through the same tunnels to have the chemical doses."
Nagham succeeded to return to Eastern Ghouta specifically to Ein Tarma Town, but the intense siege caused her health to worsen, in addition to the shelling of her house by Syrian regular army. Killing of her mother early 2017 as a result to the shelling even deteriorated her health condition and pains returned once more. Nagham, until the date of writing this report, hopes that humanitarian passageways will be reopened and she will be able to have the treatment and medication needed.
Zaynab al-Ahmad, 70, narrated in another testimony the struggle against cancer under the blockade siege imposed on Eastern Ghouta. In 2012, symptoms of the disease started to appear specifically in the left breast, but due to the siege and the denial of people to leave or enter Ghouta, she started, like the other, to receive treatment in Eat Ghouta's Dar A-Rahma Center.
"I was being treated in Damascus hospitals at the beginning of the illness, but since the siege imposed on Eastern Ghouta, I headed to Dar A-Rahma Center. Nevertheless, my health condition deteriorated and relapsed given the lack of the needed amount of medication; the tumour moved to the other breast. The thing that increased my pains and sadness is the injury of my children due to the shelling that affected my house, which is located in Zamalka, by Syrian regular army. All I hope now is allowing the access to medicines to Eastern Ghouta, not only for myself, but for hundreds of patients who suffer under illness and siege."

Second: Poor Medical Potential Due to Siege
Dar A-Rahma Center is the only center specialised in treating cancer tumours all over Eastern Ghouta and is supervised by a specialised medical staff, including the doctor Wissam al-Rez, who reported that the center has received 1200 cases from whole Eastern Ghouta since the beginning of 2013 until the end of 2016, and the total death from this statistic reached 11% whereas the total recovery rate reached 38%. Concerning this issue, she told STJ:
"The Number of the cases still receiving treatment is 553, whom 18% are children, 57% are women, and the rest are men. Since 2016, we have noticed an increase in the numbers of acute cancer patients, particularly leukemia, which spread noticeably in the regions adjacent to Damascus, such as Zamalka, Ein Tarma, Jobar, Douma and Mesraba. I think there are several reasons that increased the disease cases in these areas, one of them is the exposure of these areas to Sarin gas on 22 August 2014, as the effects of exposure to this gas do not appear immediately but need at least a year to show. The other reason is the violent bombardment that these areas are continually witnessing by the regime forces, apart from the psychological factor that affect oncological patients given Eastern Ghouta is subject to war, shelling and destruction."
Dr. Wissam indicated that the most vulnerable affected by the siege are cancer patients from children, citing a child identified as Moayad, 10, who started to suffer from the disease since he was six; the tumour showed up in the brain area so he had to undergo an operation to eradicate the tumour, after that, he started receiving medical and surgical treatment. Doctor Wissam continued:
"In 2015, Moayad's home was shelled and his health started to retreat and the tumour became greater, prompting the doctors in charge of Dar A-Rahma Center to treat him with chemical doses once again, but because of the severe shortage of medication, we were forced to reduce the amount of the needed medication, as a result, the tumour spread to the extent that he became unable to speak."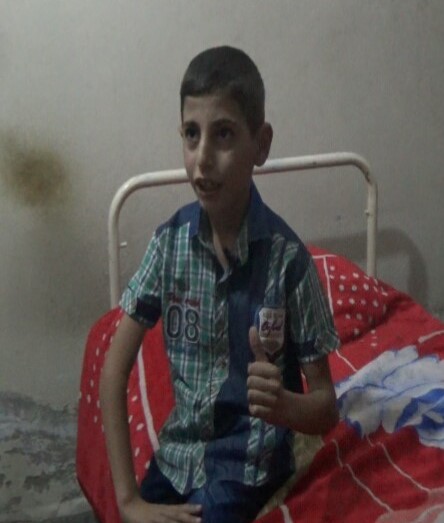 Image of the child Moayad while having medication in East Ghouta's Dar A-Rahma Center, taken August 12, 2017.
Photo Credit: East Ghout's Dar A-Rahma Cente
Dr. Wissam added that a children identified as Wissam Boidati had a very malignant cancerous tumour in 2016, entailing him to go to Damascus along with his mother to receive treatment. When he improved, the mother decided to return to visit her family in Eastern Ghouta, but a short while after her return, the situation strained in the tunnel linking Damascus and Qaboun, and as a result the mother could not go back to Damascus to complete her child's treatment, making the tumour spread and grow in his abdomen, she continued, saying:
"Wissam's mother reviewed Dar A-Rahma Center; it was clear that tumour had spread in his abdomen and he needed intense chemical therapy. Unfortunately, we were unable to secure the medication given the quantity ran out, besides we did not succeed in getting him out of Eastern Ghouta despite our several pleas. Wissam died on August 15, 2017."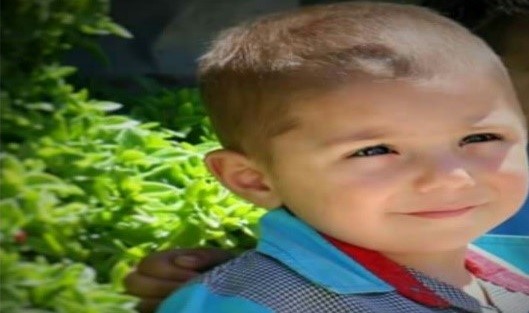 Image of Wissam Boidati prior his death of a cancerous tumour. His health condition aggravated due to the siege imposed on Eastern Ghouta.
Photo Credit: East Ghouta's Dar A-Rahma Center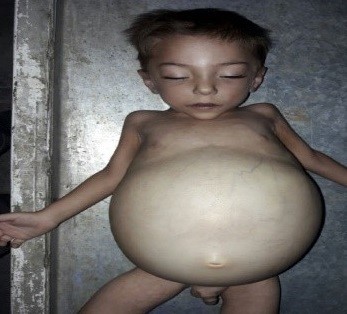 Image of Wissam Boidati following his death on of a cancerous tumour August 15, 2017. His health condition aggravated due to the siege imposed on Eastern Ghouta.
Photo Credit: East Ghout's Dar A-Rahma Center
Concerning the children died given lack of medication, Dr. Wissam spoke about a child identified as Kinan who had not been in his first year yet. He suffered from "acute leukemia, and Dr. Wissam supervised his treatment. Given the severe shortage of medication, the doctors in charge of the center gave him a medical report illustrating the need to go to Damascus, to receive treatment, but because of the delay in taking him out of Eastern Ghouta, he suffered sharp leucocytosis that threatened his life until he died on 12 August 2017, although his condition could have been treated up to (90%), as Dr. Wissam confirmed.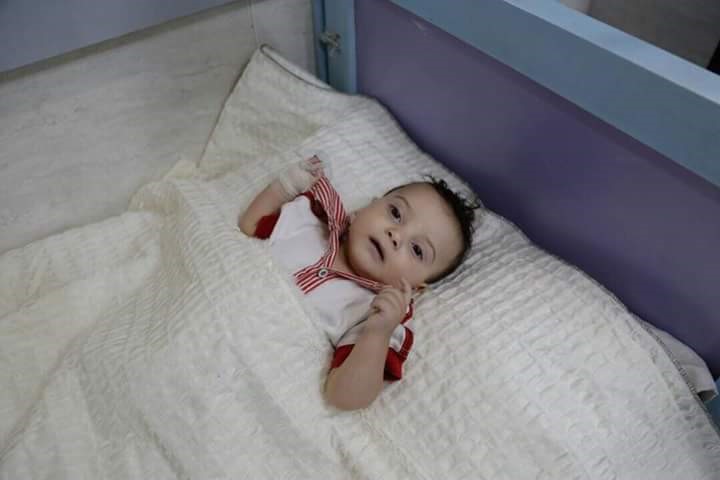 Image of Kinan Boidati prior his death due to leukemia on August 12, 2017. His health condition aggravated under the siege imposed on Eastern Ghouta.
Photo Credit: East Ghouta's Dar A-Rahma Center
Third: Suffering of Kidney Failure Patients in Eastern Ghouta
Kidney failure patients–like other chronic diseases–suffer from the absence of specialist staff overseeing their treatment, as well as the lack of needed medication, so most of them resort to painkillers to alleviate some of their pain. Abdullah Hassan, 47, from Eastern Ghouta, suffered from kidney failure after being arrested by Syrian regular forces about four years ago, and in this regard, he spoke to STJ, saying:
"In 2013, agents of the State security detachment in Douma arrested me. I was subjected to various forms of torture during the arrest, besides investigators beat me to the abdomen repeatedly causing me severe pain. I got out of prison after a year and two months, but the pain persisted, and when I visited the doctors, they decided to remove my kidney and this caused a renal atrophy to my other kidney. Only a short time ago, the doctors decided to wash the kidney that remained. Unfortunately, as soon as I started receiving treatment, the intensification of the blockade caused scarce in medicine, therefore, the doctors reduced the number of sessions which caused my health to deteriorate more."
There is only one center specializing in kidney dialysis in Eastern Ghouta, it was established in mid-2013 and it conducted more than 3000 dialysis sessions over the past years. In this regard, Abu Hamza, the doctor in charge of the center, spoke to STJ, saying :
"At the beginning of the siege, we relied on materials available in Eastern Ghouta, but after the required medical materials ran out, we appealed to international organizations to intervene and access materials for patients. We encountered many difficulties, especially since the dialysis treatment materials were confined to Syrian Ministry of Health. Our pleas succeeded sometimes, but we still sometimes suffer from blocking of treatment materials, which has a negative impact on the condition of the patients whom some of them died. In March 2017, two patients died due to lack of proper treatment, let alone, we were using the same materials several times after sterilizing them. Moreover, we used to extract the accumulated fluid through the abdomen, a process that threatens the patient's life and is dangerous, and early August 2017, limited quantities of dialysis treatment materials were brought into Eastern Ghouta, but they did not meet all the patient's needs. Required medicines that accompany the treatment of kidney failure did not enter with them, such as high blood pressure medication and hormones, and this is indeed what threatens the lives of many kidney failure patients and puts them at risk. "
The Independent International Commission of Inquiry on Syria in its last report, thirty-sixth session at Human Rights Council (11-29 September, 2017) had stated that use of siege warfare has affected civilians more tragically than any other tactic employed by warring parties in the conflict. The report stressed that presently over 600, 000 civilians remain trapped in besieged locations nationwide Syria including Rif Damascus (Damascus countryside). The report recommended that all warring parties immediately lift all sieges and cease strategies aimed at compelling surrender that primarily affect civilians, including starvation and denial of access to humanitarian aid.