On November Thursday 3, 2016, Russian warplanes carried out several aerial raids in civilian areas of Tafas, in the west Daraa countryside, an area held by the Syrian opposition. Adam al-Tiby, an activist from Tafas city, confirmed for Syrians for Truth and Justice that beginning in the afternoon of that day Russian warplanes initiated three aerial raids targeting civilian areas in many parts of the city. He also confirmed that the bombardment coincided with the dropping of several artillery shells by forces centered in Daraa city and Tal al Kheder, forces which are organized by the Syrian army.
The November 3rd bombardment, according to Adam, resulted in two civilian deaths:
1 – Soltana al Natour, an old woman over 70 years old
2 – Reema Yousef al Mahameed, a young women displaced from Atman in the Daraa countryside.
(The previous day another civilian, Sara Ghatfan al Share, was also killed.) In addition to deaths, the bombardment also injured civilians, some seriously, as well as damaged public and private property. This attack was seen as a result of the city being militarily exposed following the regime's control of " the deserted platoon," al-Kateeba al-Mahjoura, east of Ibtaa in the middle part of Daraa countryside.
It should be remembered that Tafas is a densely populated city close to 50,000 residents, not including the dozens of displaced families from other part of the Daraa countryside.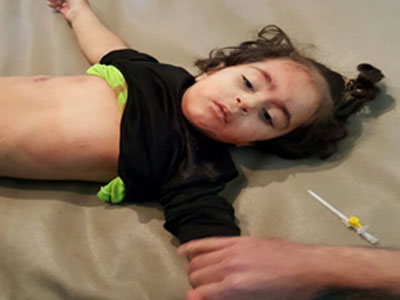 Image of "Sara al Share" killed during raids by Russian warplanes.
Photo credit: Daraa Province Activists