Daraa Province experiences a kind of security disorder which significantly increases random kidnaps, murders, and shootings. To often, the criminals often flee without being captured. Since the beginning of the last week of October 2016 till the end of the month, four murders took place in different parts in the province. In that time, only one individual who committed crimes during this period appears to have been arrested.
There have been at least four murders for which no one has been arrested.
1 – On October 21 in Dael city, armed factions arrested what they called a "security cell," a cell consisting of four members who work for the Syrian security apparatus and who intended to do disruptive (riotous) deeds inside Dael city. As reported to Syrians for Truth and Justice, two of them were killed during investigation; Mohamed Mahmoud Alhariri and Fayz Qasem Qatleesh. A statement commenting on the incident stated that during the investigation the two men took the gun away from the guard and targeted it towards the investigators. The guards immediately shot them. The other two members, Mahmoud Fayz Qatleesh and Hussein Ali Anaser, were handed to the Court of Justice in Nawa to be prosecuted.
2 – On October 22, 2016, another incident took place in the Al Ghraya East village when a technical failure in a cement machine angered the building owner (N.A.GK) who took out his gun and shot his workers. One worker, Abdraheem Almasri, was killed. Almasri was 40 at the time of his death and was displaced from Kharbet Ghazalla city. After two days, the murderer surrendered himself to the Court of Justice governed by the Syrian opposition in Daraa.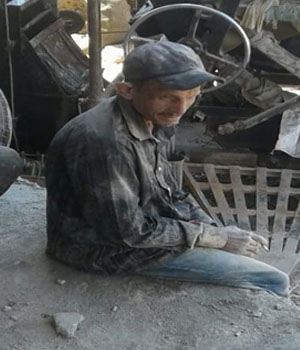 Ahmad Abdaraheem Almasri who was shot while working.
Photo Credit: Daraa province activists
3 – On October 24,2016, a masked gunmen shot Ibrahim Fareed Abo Awda, who was 29years old and from Tasil. They then escape to an unknown place with their car. Activist Sohaib Asslamat stated to Syrians for Truth and Justice: "Whe we heard gunshot sound, we headed immediately to the scene of the crime and found a guy killed with a bullet in head. He added, "This is not the first time we witnessed incidents like these. Similar ones occurred in the past during the night by criminals usually riding motorbikes or cars without license plates. However, we have recently witnessed such murders during the day when the criminals can escape. Most of the victims are civilians. There is a hypothesis that these crimes might be the result of settling personal scores." Some crimes include:
A. On August 4, 2016, Yousef Abd Alkarim Aneesan, Tawfiq Aneesan, and Jamal Asslamat were murdered.
B. On August 16, 2016, another murder took place. This time the victim was Bassam Mohamad Alodat, who was targeted with several gunshots by unknown people on the road leading to nearby Adwan village.
C. On October 17, 2016, unknown people shot Mohamad Yousef Alqarfan as he got out of his house. He was seriously injured.
D. On October 24, 2016, in Hrak city, Daraa, Khaled Al ghabari (Abo Ghabra) was killed and Hassan Younes Abo Safi was injured due to exchange of gunfire with a group of masked men on the road linking Hrak and Al Ghraya East.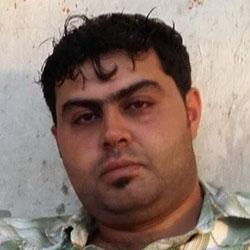 Khaled Al ghbari's, who was killed by masked gunmen.
Photo credit: Daraa province activists.
Durign this time, there has only been at least one arrest. This occurred when armed factions organized by the Syrian opposition in Al harra city, in the west part of Daraa countryside, declared the arrest of Mohamad Souleiman Al saedi and Emad Deibs on October 24, 2016. These men confessed to that during an attempted robbery, they had murdered Issa Al arnous, who was 70 years old, as well as his wife, Mariam Awak Al arnous, who was 62 years old. They were handed to the Court of Justice in Horan.