An estimated 85% of Jarjanaz's population fled repeated artillery and rocket shelling on their village, continued from 24 November to 18 December 2018, and resulted in the the death of 9 civilians, including children, and the injury of 6, at least, according to testimonies given to STJ.
The local council member Muhammad Al-Salloum confirmed to STJ on December 18, 2018, that nearly 85% of Jarjanaz's population, locals and IDPs, fled the village gradually, since the beginning of the bombing campaign on November 24, 2018, as the displacements started from eastern neighbourhoods, especially Madrasat Al-Khansaa neighbourhood that was directly targeted, and extended to the neighbourhoods of the main souk. The displacements continued until 18 December 2018, the last day of the campaign.
Jarjanaz has a population of about 24.000, including some 3800 local households and 1150 IDP families, mostly from Eastern Ghouta, Homs, Hama and Sinjar, according to Al-Salloum.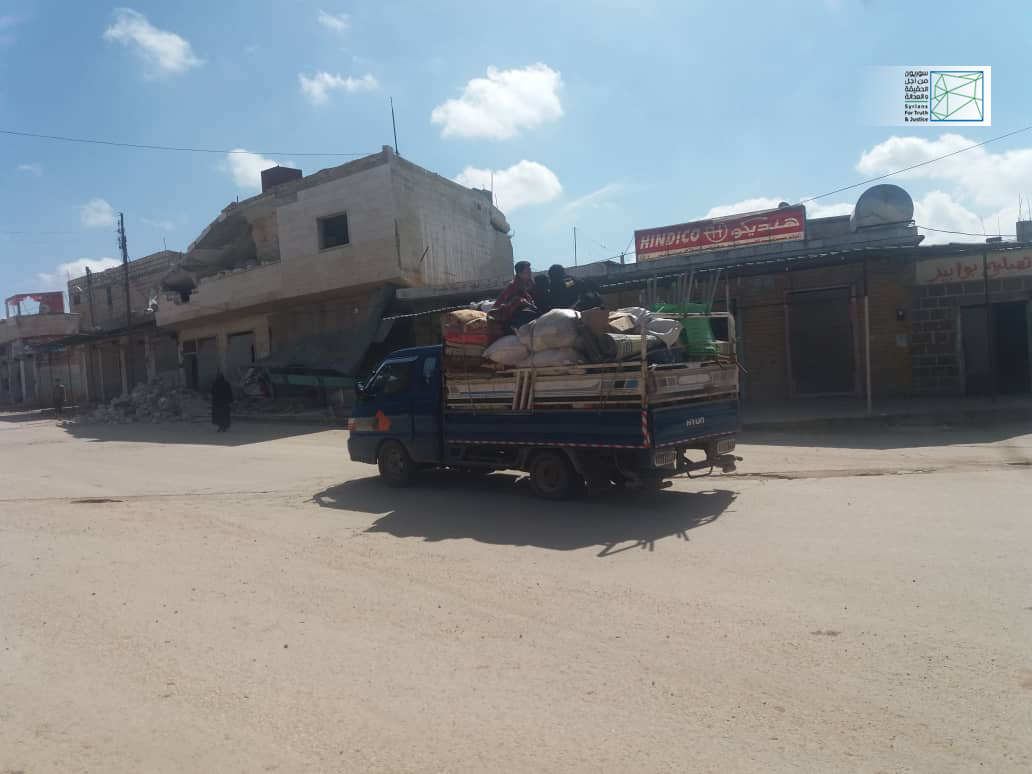 The displacement movement in Jarjanaz, Idlib.
Photo credit: STJ
At dawn on Tuesday, December 18, 2018, Syrian troops in Ejaz neighboring village, hit Jarjanaz by rocket launchers, and those stationed in Abu Dali village fired it with high-explosive rockets four hours later, causing material damage only, as the village was almost empty, STJ's field researcher reported.
Jarjanaz was also subjected to rocket and artillery shelling on November 24, 2018:
"Fire came from the Russian military camp in Tameh Khalifa village, and positions of the Syrian Army in the villages of Abu Dali, Ejaz and Umm Ar-Rajim. Jarjanaz was targeted with six high-explosive rockets, each weighing about 250 Kg.", the local activist Muhammad Al-Dugheim reported.
The rockets landed in the middle of the main souk and near Al-Khansaa' school killing a teacher, six students, a man and a woman and injuring six, noting that the bombardment coincided with the school dismissal time.
Names of victims fall in the bombardments of November 24, 2018:
Khadija Daba'an. (Teacher)

Othman Daba'an. (Fifth primary grade)

Abdulghani Al-Dugheim. (Fourth primary grade)

Eyad Al-Dugheim. (Fourth primary grade)

Asma' Khattab. (Sixth primary grade)

Hussein Al-Dugheim. (Third primary grade)

Najme Daba'an. (Fifth primary grade)

Rawa'a Dugheim. (30 years)

Muhammad Sarhan Yousef. (Died of his injuries in Turkey)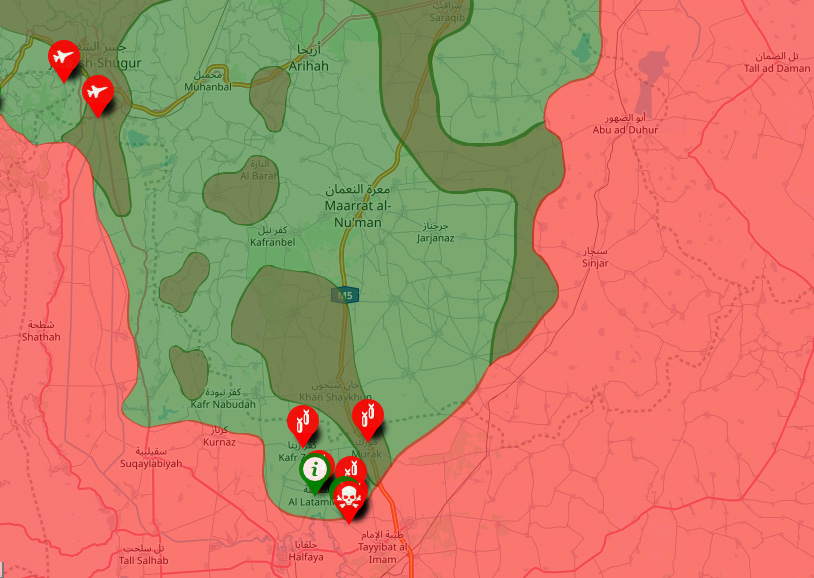 Who controls what around Jarjanaz, Idlib countryside.
Photo credit: syriancivilwarmap