Since late 2019, Syrian fighters have been recruited to join the war in Libya as mercenaries within the ranks of the Government of National Accord (GNA), led by Fayez al-Sarraj and backed by Turkey, or the Libyan National Army (LNA), led by Field Marshal Khalifa Haftar and backed by Russia and other countries. While covering the recruitment of Syrian mercenaries to Libya, Syrians for Truth and Justice (STJ) obtained evidence that Turkey and allied forces,[1] particularly the armed groups it backs, enlisted dozens of children under 18 to fight in Libya as mercenaries throughout 2020.
According to sources from the opposition-affiliated Syrian National Army (SNA), Turkish authorities have lately sought to tighten restrictions on child recruitment. In May 2019, the Ministry of Defense of the Syrian Interim Government (SIG) stated that the SNA had stopped enlisting or accepting child volunteers as mercenaries, implying that child recruitment had previously occurred. However, testimonies and accounts prove that Syrian children continued to be recruited even after May 2019, and dozens of these child soldiers were still in Libya as late as February 2021.
STJ obtained testimonies from fighters who returned to Syria over the second half of 2020. Their testimonies confirm that nearly 200 child recruits are stranded in the Libyan city of Tripoli at a military camp in the vicinity of Mitiga International Airport. Other children remain on duty, performing mercenary military tasks. Furthermore, one of the testimonies obtained by STJ—the first of its kind—reveals that the pro-GNA Libyan Liwa al-Sumood (Brigade of Steadfastness), led by Salah Badi, has been recruiting Syrian fighters, including children, apart from Turkey and SNA armed groups.
Child Soldiers in Libya
On 19 May 2020, the SIG's Ministry of Defense (General Staff) made a statement prohibiting the recruitment of children under 18 or admitting child volunteers  into the SNA. In the same statement, the ministry demanded the immediate discharge of enlisted children. STJ spoke to a source from the Public Relations Office of the Syrian Liberation Front (SLF). He said:
"In June 2020, the Turkish government imposed travel bans on under-18 children and over-45 adults, intending to join the fight in Libya. The decision was enforced after several Syrian child recruits died in Libya causing the Turkish government public embarrassment."
According to the source, two commanders—Hamido al-Jhaishi and another called Junaid—of the Liwa Sultan Murad/Sultan Murad Division were responsible for brokering the greatest number of child enlistments. The source also confirmed that, last June, Turkey returned at least 20 children preparing to travel to Libya with fighters of the Suleiman Shah Brigade (al-Amshat) and the Liwa Soqour al-Samal(Northern Hawks Brigade).
Additionally, the source added that the Turkish government demanded that SNA armed groups return Syrian child recruits in Libya, threatening to forfeit the salaries and hold accountable commanders who failed to abide by the new orders. However, despite these statements and attempts, in practice, child recruitment continues. Several of the sources interviewed by STJ confirmed that, at the time of reporting, Syrian child soldiers were still in Libya.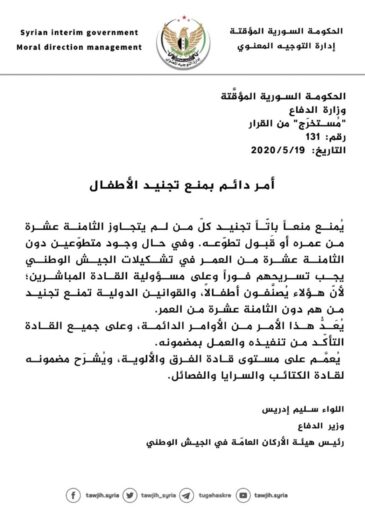 Image 1- The statement made by the Ministry of Defense of the Syrian Interim Government, prohibiting child enlistment. 
In this section, STJ lists the testimonies of three fighters who confirmed seeing child recruits in battlegrounds and other military locations where they were deployed as mercenaries, as well as the testimony of a medical source who treated injured child recruits.
Testimony 1: The eyewitness, a 19-year-old fighter of the Hamza/Hamzat Division, returned from Libya to Syria in the first half of September 2020.
The witness told STJ that over the course of his service in Libya—from March to September 2020—he saw at least 75 children in the different military locations he was deployed to. He added that many children were injured during active fighting.
The witness spoke to STJ on the condition of anonymity, fearing prosecution or retaliation should he reveal his identity, particularly as he continues to live in areas dominated by armed opposition groups.
Testimony 2:  The eyewitness, a fighter of the Suleiman Shah Brigade (al-Amshat), returned from Libya to Syria in September 2020.
The witness confirmed to STJ's field researcher that at least three children were enlisted with the group he joined and were still in Libya at the time of their discussion. The witness said that his group of 50 fighters, including the three children, were stationed at the Equestrian Club. Two of the children were 16 while the third was only 14. The fighter, considering the areas he was deployed to and the groups he kept in touch with, estimated that there are over 200 Syrian child recruits in Libya today.
Testimony 3: The eyewitness, a 19-year-old fighter of the Faylaq al-Sham/al-Sham Legion, accompanied the Hamza/Hamzat Division to Libya and returned to Syria in late October 2020. He said:
"Nearly four months ago, a decision provided for deporting all armed groups' old fighters and children. However, this did not happen. The children, about 200 aged between 16 and 18, were gathered at a recently established camp at the Mitiga International Airport. They are held there under poor conditions and prohibited from leaving."
He added:
"A large number of the detained children are seriously injured. They were denied access to necessary medical care. The condition of some of these children is even critical. One child died due to lacking proper medical care."
He added:
"In fact, the fighters themselves are refusing to return to Syria, now that fighting has halted, because they are still getting their salaries paid."
Testimony 4: The eyewitness, a medical source from Tripoli Hospital, was interviewed on 28 January 2021. He said:
"Children are still assembled at the Mitiga Airport. At work, I saw many injured children. It was apparent that they were under-18 even though their identity documents (IDs) indicated they were above-18. Nearly two months ago, two children were brought to the hospital for treatment from pneumonia. Their IDs said they were born in 2003 and 2002. But when the doctor asked them about their true age, the first said he was 17 and the second 16 and a half. I cannot tell the exact number of children here. But I am sure they are numerous."
STJ attempted to locate the sites the eyewitnesses/sources pointed to as within or in the vicinity of Mitiga International Airport to narrow down the likely locations of the recently established camp where Syrian child recruits are  reportedly held.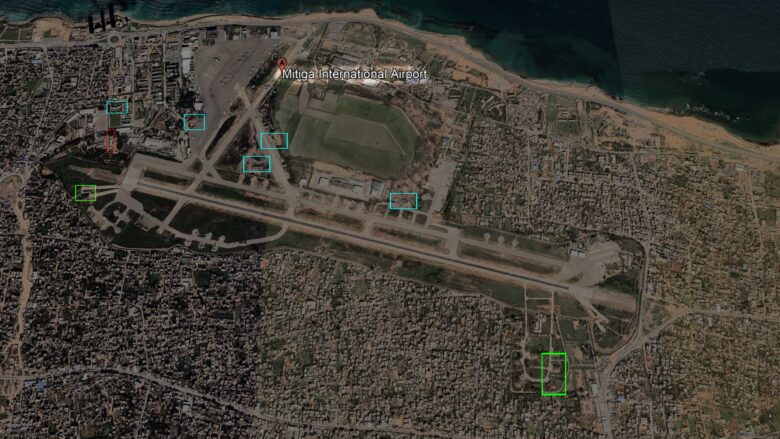 Image 2 – STJ located several sites that Turkish forces regularly use at the Mitiga International Airport. We suspect the children/recruits are being held at one of these sites.
Image 3- The image in the lower-left corner is of a tweet posted by the Turkish Ministry of National Defense on 4 July 2020. The tweet reports the visit of the Minister of National Defense Hulusi Akar to military posts and bases controlled by Turkey at the Mitiga International Airport. The image in the upper-right corner zooms in on one of the buildings we suspect as the location where some of the Syrian child recruits are held.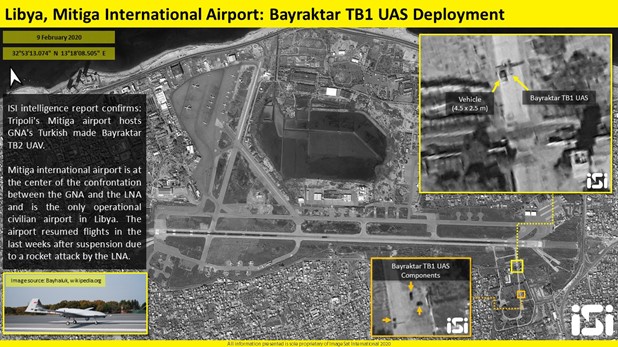 Image 4- Screenshot of a tweet confirming that there were Turkish drones near the sites where children are reportedly stuck. The image was captioned as follows: 
#ISI #intelligence report confirms: #Tripoli's Mitiga international airport hosts GNA's #Turkish made #Bayraktar TB2 #UAS. #Turkey #Libya #UAV #GNA #LNA #Mitiga
The Recruitment of Child Soldiers Continues
Eyewitnesses confirmed that enlisting and sending children to Libya continued up to at least September 2020, ignoring the decision passed by the Ministry of Defense of the SIG and the instructions of the Turkish command. Given the threat that commanders unwilling to comply to child recruitment restrictions would be punished, commanders now prefer not to recruit children personally and instead ask for the help of middlemen.
These middlemen are the link between children's parents and armed groups' commanders. With the permission of the parents and commanders, these middlemen forge the children's IDs, changing birth dates for children who already have IDs and obtaining fake IDs for those who do not have them. After middlemen forge the IDs, faction commanders hand over lists with the recruited children's names to Turkish entities in charge of deploying mercenaries to Libya, which lately have been subjecting IDs and recruits' personal information to thorough audits, particularly for age.
A fifth witness, a fighter of the Hamza/Hamzat Division who returned from Libya recently, said:
"The Mu'tasim Division, the Hamza/Hamzat Division, and the Sultan Murad Division, as well as the Suleiman Shah Brigade/al-Amshat are the armed groups engaged in recruiting children and faking their personal information. When the children's personal information is added to fighter records, their ages are changed and registered as 19."
He added:
"Recruiters also obtained fake IDs for children, showing they are adults, and forwarded these documents to Turkish officials, who recently have been obsessed with the issue of age. They are not allowing any children to travel lately."
Forging new documents for child recruits to circumvent authorities is currently not difficult in Syria. In an extensive 2019 report,[2] STJ covered how IDs are being issued by local authorities, under Turkey's auspices, in the territories under their control across north and northwestern Aleppo. The report sheds light on the fragility of the system used to issue official documents and how easy it is to forge them. These documents are often faked for prices that many consider as "trifling."
Syrian Children Recruited by Libyan Armed Groups
According to testimonies collected by STJ, Libyan armed groups have recruited Syrian mercenaries with their children to fight in Libya. However, these enlistment cases were not mediated by Turkey.
STJ's sixth eyewitness, a Tripoli-based fighter for an armed group which recruits children outside the usual channels, said that the Libyan armed group Liwa al-Sumood (Brigade of Steadfastness), led by Salah Badi—the commander of the Operation Fajr Libya (Libya Dawn)—resorted to Syrian middlemen present in Libya long before Turkey started recruiting mercenaries. The middlemen in Libya contact friends and acquaintances in Syria and connect with the armed group. The eyewitness added that the recruits are then brought to Libya with their families.[3]
The witness said that he came to Libya on 22 January 2020. Today, he fights within the ranks of the Imad Ftaihy armed group, operating under the Liwa al-Sumood (Brigade of Steadfastness), with his two sons, who are 16 and 17. Before Libya, he added that his sons fought for armed opposition groups in Syria. He fought for the al-Farouk Battalion, which operated in Homs. Following in his footsteps, his two boys joined the Suleiman Shah Brigade after they were displaced from Homs.
The father added:
"Many Syrians came here this way. Initially, one of my acquaintances in Libya contacted me and told me that I had the opportunity to volunteer with the Liwa al-Sumood (Brigade of Steadfastness). He said that I could bring my family too and that all our needs will be provided, not to forget the lucrative salaries. Indeed, they sent us the flight tickets. We arrived in Tripoli on 22 January 2020 on board Afriqiyah Airways. Today, I and my two sons are volunteer recruits with the Imad Ftaihy armed group. We have been assigned various tasks, including guard services. In addition to housing, we make a total of about 5000 USD."
STJ tracked the flight on 22 January 2020 that the witness reported. Afriqiyah Airways carried out the flight, the details of which were posted on the Mitiga International Airport's Facebook page. Even though the airport suspended flights for several hours that day after it was hit by mortar shells,  it resumed action and the source's flight appears on its arriving flight lists.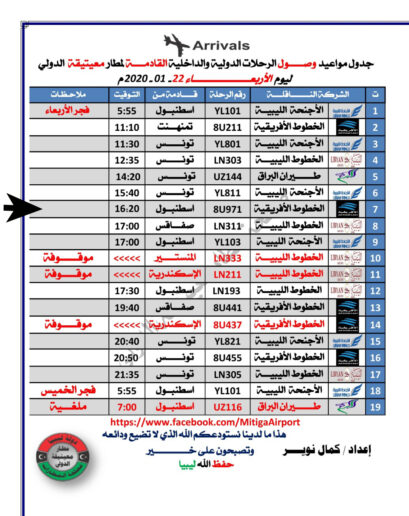 Image 5- Flights that arrived in the Mitiga International Airport on 22 January 2020. The black arrow points to the same flight the source reported.
Eight Syrian Child Recruits in Libya Profiled
Through the testimonies delivered by fighters who returned from Libya, STJ managed to obtain specific details about eight child recruits. Two of these children returned to Syria. The other six were still in Libya at the time of reporting.
Abdurrahman Juma'a, 16, from Idlib province. He accompanied the Suleiman Shah Brigade (al-Amshat) to Libya and returned to Syria in September 2020.
Mazen al-Sawan, 14, from Homs city. He accompanied the Hamza/Hamzat Division to Libya and returned to Syria some time before September 2020.
Unnamed child, 16, originally from the al-Qalamoun region in rural Damascus and based in Afrin city. He accompanied the Suleiman Shah Brigade to Libya and is still there.
Saqer Sayif, 14, from Manbij city, Aleppo. He is an orphan, displaced to Shaykh al-Hadid, Afrin. There, the brother of Abu Muhammad al-Jasim (Abu Amsha) adopted him and gave him the name Saqer Sayif. The child was trained on using a sniper rifle, accompanied Abu Amsha to Libya, and is still there.
Issa al-Siba'ee, 16, from Homs city. He accompanied the Hamza/Hamzat Division to Libya. He was injured during the fight on the Garyan front, south of Tripoli. He was transported to the Governmental Tripoli Hospital. Since then, no further news was obtained as to his condition.  Sources believe he is most likely dead.
Three children, under 16, from the Shuaitat region, Deir ez-Zor, were recruited by Ahrar al-Sharqiya (Free Men of the East). They accompanied the Mu'tasim Division to Libya and were there in late September 2020.
[1] "Turkey's Recruitment of Syrian Mercenaries to Fight in Libya: Process and Legal Consequences," STJ, 11 May 2020, https://stj-sy.org/en/turkeys-recruitment-of-syrian-mercenaries-to-fight-in-libya-process-and-legal-consequences/ (Last visited: 6 March 2021).
[2] "Syria: Turkish Identification Cards Obliterate Identity of Natives and Displaced populations Alike," STJ, 21 October 2019, https://stj-sy.org/en/syria-turkish-identification-cards-obliterate-identity-of-natives-and-displaced-populations-alike/ (6 March 2021).
[3] STJ continues to gather additional testimonies and evidence pertaining to this specific method of recruitment and will publish verified findings in a separate report.