Four doctors were kidnapped by persons unknown in Idlib Governorate, besides one by Hay'at Tahrir al-Sham/HTS[1] during April and June 2018. Several medical institutions suspended their work in protest against abusing and targeting medical personnel in the governorate.
The Security and Safety Department officer of the Free Idlib Health Directorate, "Safwat Shaikhouni", in an interview with STJ, said that four doctor kidnappings carried out by unidentified armed bands were recorded. Dr. Najdat Sallat was kidnapped from Binnish city on April 28, 2018 and was then released on May 3, 2018 without conditions, while Dr. Ahmed Haj Yusuf was kidnapped by another gang from Maarrat Dibsah village on June 6, 2018 and released a few hours later. Shaikhouni said that these two abductions were likely aimed at intimidating and terrorizing doctors, that they were not kidnappings for ransom.
An unidentified gang also attempted to kidnap Dr. Bader Watti in Salqin town on April 29, 2018, but it failed. In a separate incident, HTS security agents arrested Dr. Mazen Dukhan from his farm in Idlib on June 19, 2018, against a backdrop of a disagreement between them and the doctor's bodyguards, for unknown causes, and they released him hours later, according to Shaikhouni.
The most notable kidnapping incident was that of Dr. Mahmoud al-Mutlaq who was kidnapped on the evening of June 9, 2018 and be released on the 15th of the same month, in exchange for a ransom of $150,000. Dr. al-Mutlaq was severely beaten and tortured according to his wife, Dr. Maram al-Qadi, who gave STJ detailed account of the incident saying:
"Dr. Mahmoud was heading by his car with a friend to a café on the Corniche street in Idlib city, when he arrived at Wadi al-Naseem junction he was stopped by a 'flying' (temporary) checkpoint, and after identifying himself, four armed men surrounded the car and kidnapped him with the help of three other masked men. His friend rushed immediately to the nearby checkpoint on "Al-Mutlaq Square" and reported the kidnapping incident."
A day after the kidnappers sent pictures and videos to the wife showing the doctor beaten, tortured, and pleading for his release. The abductors asked for a $500,000 ransom, the wife continued:
"I could only secure $ 100,000 but the kidnappers did not settle for it, so they tried to cut off my husband's fingers. On the fifth day, after six hours of negotiations between the kidnappers, and us we agreed on a $ 150,000 ransom, and the kidnappers planned with my daughter for the money hand over. After we gave them the money we found my husband on the Ariha- Almastumah way suffering breaks in his jaw and ribs with severe haematomas in the thigh."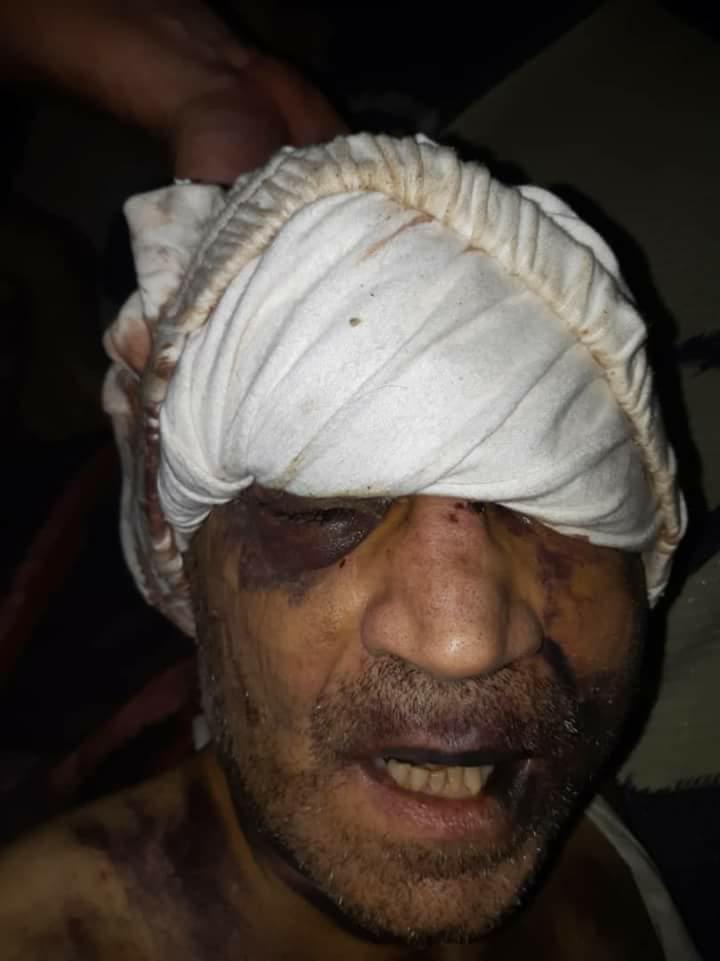 Image shows the doctor Mahmoud al-Mutlaq being tortured and ill-treated by his captors, who kidnapped him on June 9, 2018 in Idlib city, noting that he was released five days later in exchange for a $ 150,000 ransom.
Furthermore, the Security and Safety Department officer of the Free Idlib Health Directorate, "Safwat Shaikhouni", confirmed that a number of doctors had received threats of death and abduction on their cell phones, in this context, he continued:
"The primary objective of such abuses and threats is to drive the doctors out of the liberated areas and to push them to immigrate. Actually they deliberately intimidate and terrorize doctors by all means, as they had already detonated an ambulance belonging to Ma'arrat Misrin hospital and we were able to dismantle an IED planted in another car."
"He also noted that there was no security or military presence in the governorate to follow the incidents of assault or kidnapping experienced by medical personnel, adding that the abuses in the governorate is present at all levels and not only targeted medicals. Finger of suspicion pointing at cells linked to the Syrian regime and others to ISIL, as well as the people of the Kafarya village and Al Fu'ah town loyal to the regime.
In response to the abuses and the failure of the security and military authorities to take any steps to stop them, the unions of physicians, pharmacists and health service workers announced a three-day strike, starting on Thursday 23 June 2018, noting that the strike could be extended if no measures were taken to stop the assaults. The signatories of the statement also demanded that the medical cadres be allowed to carry guns for self-defense and to release all the kidnapped or detained personnel, in addition to prevent the security agents of the military authorities from wearing masks and force them to wear a uniform with tags, where the signatories threatened to escalate and stop providing medical services in all northern Syria if their demands are not met.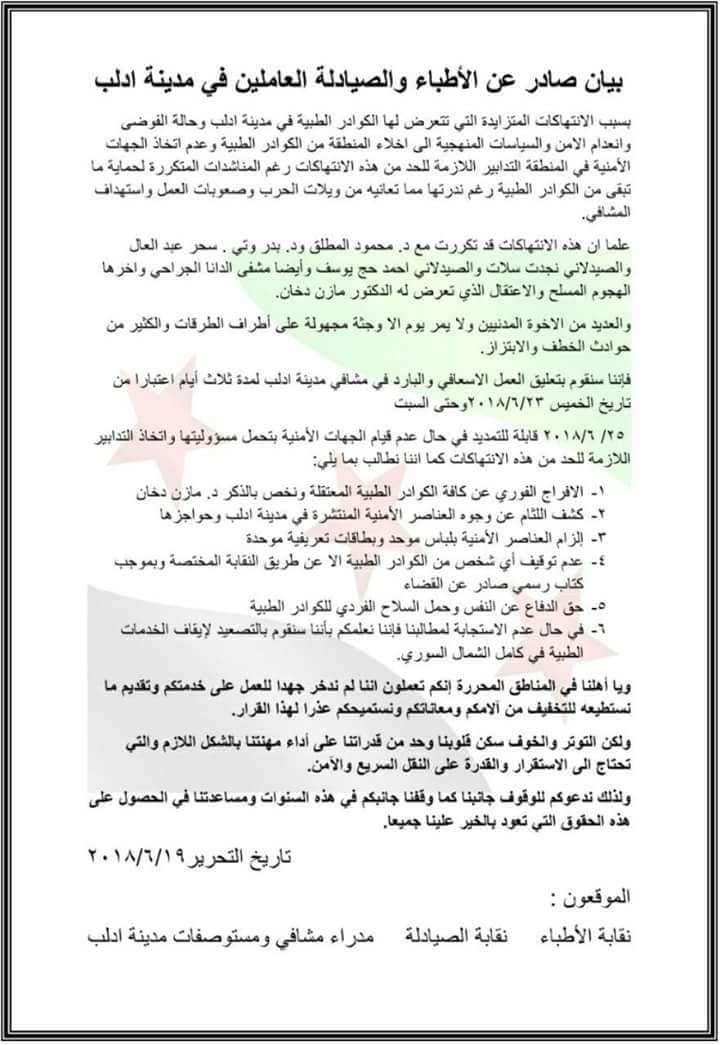 The statement issued by the three unions, as well as some doctors, to condemn the increasing violations.
The Free Idlib Health Directorate has also conducted an advocacy campaign to arouse public opinion against the state of insecurity prevailed in all liberated areas in general that adversely affects the health sector. It also has published instructions and directives to ensure the safety of the doctors inside and outside medical facilities.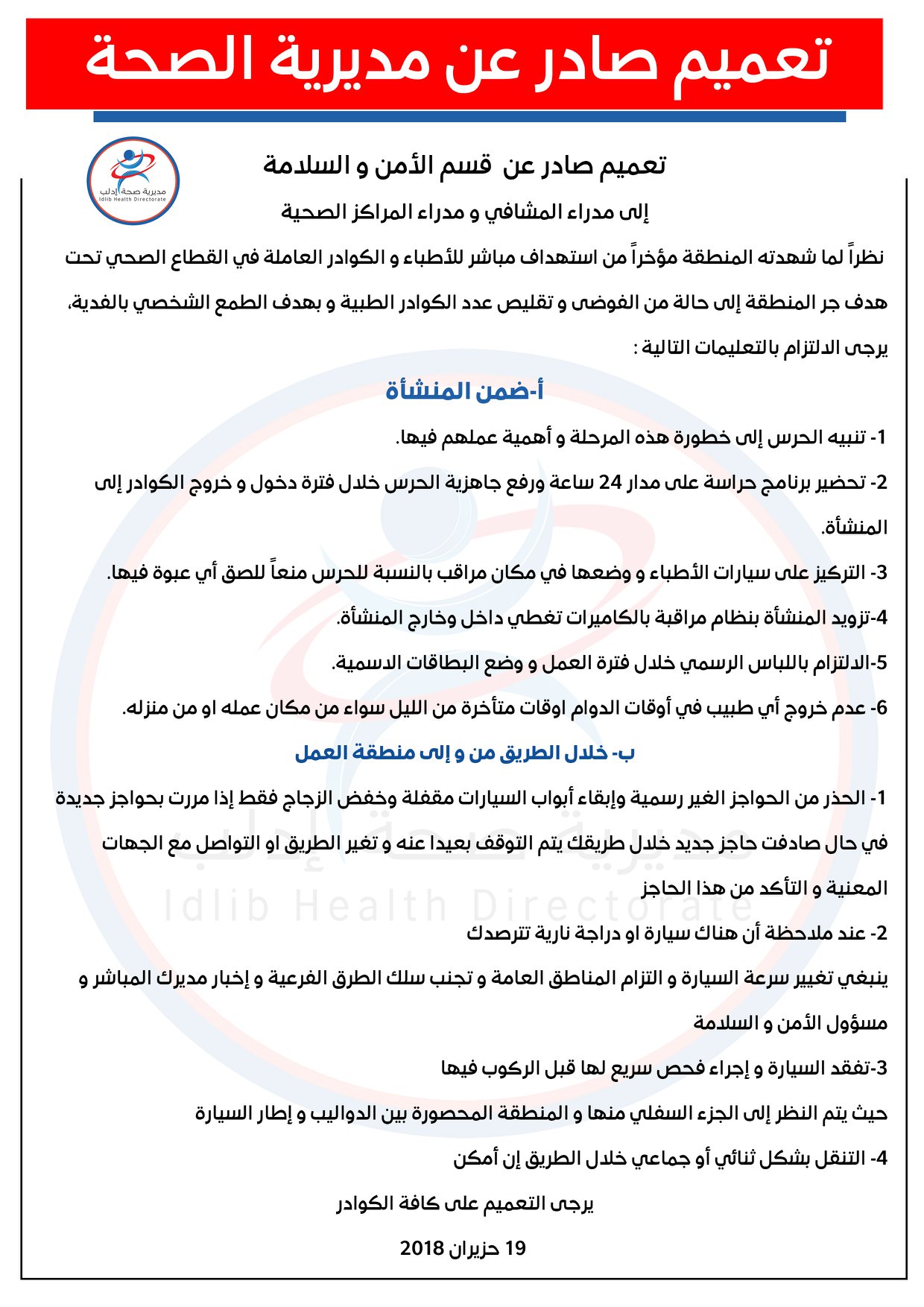 A copy of the circular issued by the Health Directorate.
After a while, incidents of doctors' abuses are back, where doctors in different Syrian regions were assaulted previously by unknown perpetrators and military factions. In this regard, STJ has published earlier two separate reports, the first of which entitled: "Documenting Arrests and Attacks against Medical Personnel Operating in Eastern Ghouta", while the second entitled: "Masked Men Attack a Medical Staff Member in Eastern Ghouta".
[1] On January 28, 2017, several Jihadi factions in northern Syria announced the merger under the name of "Hay'at Tahrir al-Sham/HTS" They were; Jabhat Fateh al-Sham (formerly Al-Nusra Front), The Nour al-Din al-Zenki Movement, Liwa al-Haqq, Jabhat Ansar al-Din, Jaysh al-Sunna and Ansar al-Sham. However, The Nour al-Din al-Zenki Movement declared its secession from HTS against the background of the recent clashes between the latter and Harakat Ahrar al-Sham al-Islamiyya in northern Syria on 15 July 2017.