On 12th October, 2106, six family members were killed when a cluster bomb exploded in Ibtaa city, Daraa province. According to the Syrians for Truth and Justice reporter, the munition was on top of the house. It was an unexploded remnant of a rocket launched by Syrian warplanes over city the previous day, 11th October 2016.
Among those killed included, the mother, Badrya Mohamed Alhariri, and five of her children:
1 – Hiba Amjad Alhariri, a 19-year old women
2 – Ziad Amjad Alhariri, a 15-year old boy
3 – Ahlam Amjad Alhariri, a 14-year old girl
4 – Mohamed Amjad Alhariri, a 12-year old boy
5 – Leen Amjad Alhariri, a 3-year old baby girl, (Leen Amjad Alhariri died from her injury two days after the explosion due to the shortage of medical staff and the prohibition of wounded individuals entering the Kingdom of Jordan for care.)
Abdallah Amjad Alhariri, a 1 ½- year old baby, was also injured in the explosion but survived.
The Syrians for Truth and Justice reporter spoke to Ahariri's neighbors. He reports that the explosion appears to have taken place when the family was about to eat, as the bodies were spread around the table when the neighbors came to see the reason for the explosion.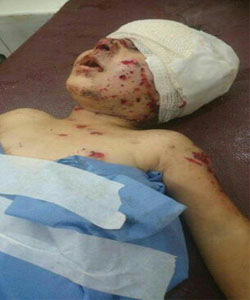 Leen Amjad Alhariri, 3- years old, who died after two days from her injuries.
Photo Credit: Daraa Province Activists
Ziad Alhariri, a member of the Media office in Ibtaa city, stated to Syrians for Truth and Justice that the city was under heavy bombardment from the Syrian warplanes and the Russian air weapons since the military campaign started on 2nd of September and was targeted twice with cluster bombs. The last attack was on 11th October 2016, where the bombardment was primarily over the eastern and southern districts of the city, and area populated by approximately 19,000 civilians and where Alhariri family lived, and where Alhariri family lived.
Ahariri added: "This is the second time civilians were killed due to an explosion of previously unexploded cluster munitions in the city. About ten months earlier, in Asheikh Meskeen city, near Ibtaa city, a woman called Radwa Abd Alrazak Aljahid died when she touched an unexploded remnant from bombings by the Syrian warplanes, bombings that were backed up with the Russian air weapons."
The Syrians for Truth and Justice reporter stated that on 13th of October, the day after the massacre Alhariri family, Zienab Qasim Alhanafi, a five year old child, died when an anti-personnel mine, which the Syrian army had hidden east of Nawa town, whichlies in the western countryside of Daraa province, exploded.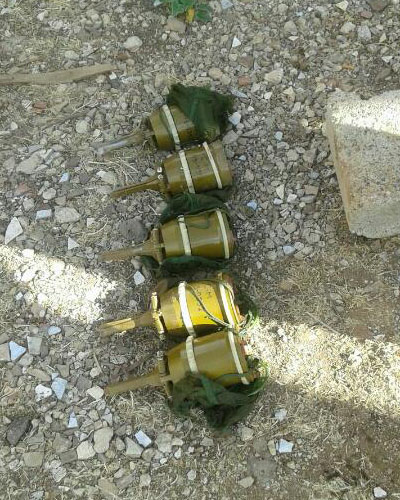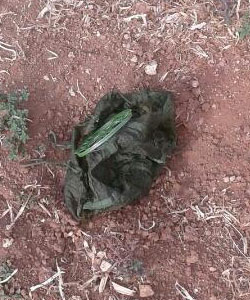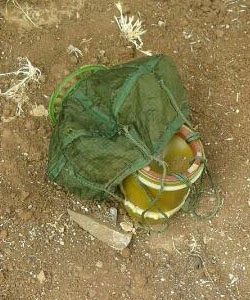 Unexploded cluster munition found in Ibtaa city after the death of the Alhariri family.
(Exclusive Photos From Syrians for Truth and Justice)